Well, well, well, what do we have here? A future owner of a Bombay cat, maybe? If you're looking for the best Bombay cat breeders, you're in the perfect place!
The Bombay cat is a hybrid cat breed with characteristics of different domestic breeds that give them a unique, third look. Even though the aim was to produce cats that look like wild panthers, we can assure you that those don't have wild blood.
The breeder, called Nikki Horner, began her invention in 1953 with her breeding of a Grand Champion sable Burmese female to a black American Shorthair with rich eye color. After a long outcross and line-breeding selection process, Nikki produced a black cat that looked like no other. Sable Burmese and Black American Shorthairs are still allowable breed outcrosses.
The black leopard served as inspiration for the Bombay name, and often the Bombay cat is described as the "patent leather kid with the new penny eyes."
After a brief information about the Bombay cat, let's see what Bombay cat breeders can offer you!
Bombay Kittens For Sale
Bombay cat breed is truly a unique breed, and we know that it might be challenging to find a reputable breeder. That's why we did the research for you and found only those that can offer you a healthy and gorgeous feline.
With these Bombay cat breeders, we can surely tell that the kitten you're to get will be socialized, healthy, and have a wonderful temperament.
Now, let's do some digging!
1. Amalura Burmese & Bombay Cats, Minnesota
Amalura Burmese & Bombay cats is a small home-based cattery located in Cottage Grove, Minnesota. The cattery is managed by husband and wife while the husband is doing all the paperwork and technology part, and the wife serves and takes care of their feline cuties.
The cattery name has an interesting meaning in Basque – Mother Earth. The breeder has this name to share the feeling that all cats are the best of what Earth has to offer.
Amalura's goal is to strengthen the Bombay breed as well as the Burmese and preserve the special look and loving personality these cat breeds are known for. Amalura has been in the breeding business for 4 years. More and more, their knowledge of the breed and breeding grew, so they've added a few more cats.
Breeder's Info
• Location: Cottage Grove, Minnesota
• Website: Amalura Burmese & Bombay Cats
• Email: kittens@amalurracats.com
• Facebook: Amalura Burmese & Bombay Cats
2. Pandora Cats, Kentucky
Dr. Brian and Cynthia Bailey started breeding and showing Bombay and Burmese cats and kittens. These breeders are fully devoted to breeding, showing, and lowing these two wonderful cat breeds.
Located in Northeastern Kentucky, this small cattery has the most gorgeous cats ever. The cats are raised in their home as part of the family.
This breeder enjoys cat shows because they meet with fellow exhibitors, and it provides them an opportunity to see the competition at its best. Of course, it gives them an unbiased, critical assessment of their cats by judges that constantly see Bombay and Burmese cats through shows, and that gives them insight into what they need to do to improve the breed.
How can we differentiate a show-quality cat and pet quality cat? A Pet quality cat or kitten can have a minor fault or flaw, while a show quality cat or kitten is the perfect example of the breed and meets all the breed standards.
Cats are registered with the TICA and Cat Fanciers Association (CFA); however, they don't sell cats with registrations that will allow them to be used as breeders. But they sell to reputable, established catteries in good standing with information from fellow Bombay/Burmese breeders that are involved in the Cat Fancy shows.
Kittens will receive all their vaccinations up to date before they leave the cattery. This breeder recommends that you take your new kitten to your veterinarian for a vet check-up.
Kittens are free to go after 16 weeks of age; the health guarantee and contract will be given, as well as a spay/ neuter agreement will be provided.
Breeder's Info
• Location: Ashland, Kentucky
• Telephone: 606 831 9284 / 606 831 338
• Website: Pandora Cats
• Email: Pandoracats@aol.com
3. Mocha Blast Burmese & Bombay, California
Mocha Blast Burmese & Bombay cattery in Chico, California, started working with the Bombay Breed in 2016.
First Bombay that the breeder acquired from Rokstarr Bombays was the funny little copper-eyed Bombay that won the breeder's heart. After that, she got two gorgeous queens of Carney Cats Cattery from Iowa.
Soon enough, she had a helper with this breeding program who was in charge of cat duties and building the new cattery spaces. As she 2021 retired from her career as a Respiratory Care Practitioner, she entirely devoted herself to breeding.
The waiting list is possible if you place a deposit. Keep in mind that the demand for kittens is high, and waiting lists are becoming fuller every day.
The price of Burmese and Bombay kittens is $1800.
Breeder's Info
• Location: Chico, California
• Telephone: 530 345 1151
• Website: Mocha Blast Burmese & Bombay
• Email: mochablastburmese@yahoo.com
4. Catvocal, Pennsylvania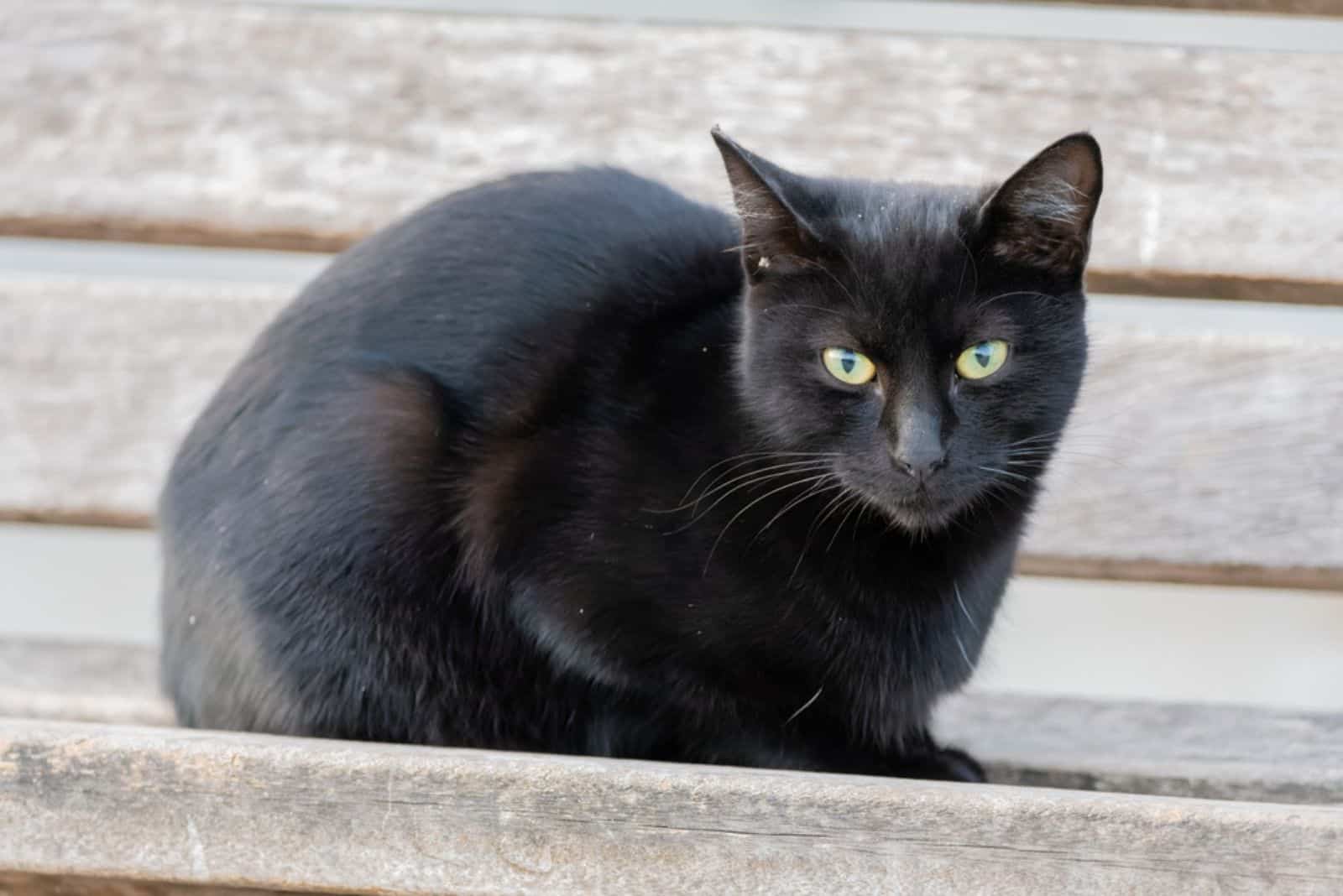 Catvocal is a cattery in Lake Ariel, Pennsylvania, that once again breeds Burmese and Bombay kittens. Catvocal cats and kittens are from Grand Champion lines, Regional and Breed Winner lines.
Kittens are CFA registered, well socialized with loving personalities, and are sold with an altering agreement.
As the Bombay breed was developed to look like a black panther, this breeder wants to preserve that look; however, their personalities are far from being fierce, as they are sweet and loving companions. With their shiny black coat, round head, and copper-colored eyes, they make stunning felines that sets them apart from other cat breeds.
Make sure to contact this breeder if you want a gorgeous kitten to run across your home.
Breeder's Info
• Location: Lake Ariel, Pennsylvania
• Telephone: 860 212 6116
• Website: Catvocal
• Email: zadurkin@gmail.com
• Instagram: Catvocal
• Facebook: Catvocal
5. Dreamabout Cattery, West Virginia
Shady Springs in West Virginia gave us the Dreamabout Cattery, which has gorgeous registered Bombay cats and CFA Sable Burmese.
All their cats are from champion lines, and kittens are raised underfoot. Kittens and cats are sold with an agreement; there is a written sales contract and a health guarantee with a genetic health guarantee. And you get a veterinary health certificate when purchasing a kitten.
If you want to adopt a kitten, search for a contract on their website to see more information about the adoption process.
Breeder's Info
• Location: Shady Spring, West Virginia
• Telephone: 304 222 3333
• Website: Dreamabout Cattery
• Email: dreamaboutcattery@gmail.com
• Instagram: Dreamabout Cattery
• Facebook: Dreamabout Cattery
RELATED: 6 Devon Rex Breeders Worth Checking
6. Evita Burmese & Bombay, Arizona
In Phoenix, Arizona, we found Evita & Bombay, a small cattery specializing in Bombay in black and sometimes chocolate and Burmese in platinum, champagne, blue and sable.
As a member of CFA Burmese and Bombay Breed Councils and National Alliance of Burmese Breeders, this cattery takes pride in having Regional Winner and Grand Champion lines.
The breeder's goal is:
• produce physically healthy and genetically sound Burmese and Bombay cats
• produce cats that are true to the breed standard
• promote the breeds in order to maintain their popularity with breeders, exhibitors, and owners
• retain their loving personality
Kittens are never caged, and they are raised in the bedroom. Kittens are smothered with kisses and attention and given treats, toys, and the best quality food possible. If you adopt one of these kittens, know that you'll get an altering agreement, health guarantee, and negative tests for FELV and FIV.
If you become an Evita Bombay kitten owner, make sure to keep in touch with the breeder, as they would like to post pictures of their kittens during the growth stages.
Breeder's Info
• Location: Phoenix, Arizona
• Telephone: 612 423 9170
• Website: Evita Burmese & Bombay
• Email: EvitaBurmese@gmail.com
• Instagram: Evita Burmese & Bombay
• Facebook: Evita Burmese & Bombay
• Youtube: Evita Burmese & Bombay
7. MNBurn, Minnesota
MNBurn is a cattery located in Burnsville, Minnesota, breeding Burmese and Bombay cats that they consider excellent resources for teaching children care and responsibility, family bonding, anxiety, soothing mental disorders, anxiety, bipolar disorder and PTSD, stress relief, and easing loneliness.
The MNBurn cats are raised underfoot. The breeding cats and the kittens are showered with love and attention all the time. They're well socialized as they spend a huge amount of time with people, and they're ready to go to their new homes.
MNBurn is ca cattery registered with the CFA, Cat Kingpin Certified, and kittens, before leaving, are vaccinated, well-taken care of, and with health guarantees. Kittens are from strong champion lines of cats, and there is no doubt that they are top quality!
Breeder's Info
• Location: Burnsville, Minnesota
• Telephone: 612 345 1096
• Website: MNBurn
• Email: mnburm@gmail.com
• Instagram: MNBurn
• Facebook: MNBurn
How Much Is A Bombay Cat Worth?
Let's see how much you'll need to pay approximately for a Bombay kitten. Usually, the Bombay cats' price is around $500 to $700. However, the price will always depend on the coat color, pedigree, bloodline, health guarantees, and other factors, and the cost can go up to $2000.
Bear in mind that you'll have to pay even more if you want a Bombay cat from champion lines, and even more so if the Bombay cat is exotic. It is common that rare cats are highly expensive.
RELATED: 8 Best Hypoallergenic Cat Litters
What Are The Colors Of A Bombay Cat?
The only color the Bombay cat can come in is black. That means that every Bombay is a black cat. However, that doesn't mean that every black cat is a Bombay breed. The Bombay breed is a specific cat breed is known for its silky black coat, muscular and athletic body, and short, dense coat.
RELATED: Black Smoke Maine Coon: A Majestic Cat That Will Steal Your Heart
Wrapping It Up
Bombays are truly top cats, no doubt there. Very loving and interactive, these felines will lighten up your days. If you're considering adopting or purchasing one for your home, you need to see which of all Bombay cat breeders on our list suits you best.
Whether you seek Bombay cats that will be national winners or just want a snuggle buddy, these breeders can offer you all that.
You are aware that as a cat owner, you're responsible for your cat. You need to take them to the vet regularly, clean them, groom them, and love them with all your heart. If you do all of these things, you won't have to worry about a single thing.
Good luck in your quest!
Related Content
6 Ocicat Breeders – The List Of The Worthy Ones
7 Best Siberian Cat Breeders: Quality Comes First