If you are searching for Burmese cat breeders, you're probably interested in getting a wonderful Burmese Cat, am I right?
Let's learn a little bit about this gorgeous cat breed. The Burmese breed found its way to San Francisco after dr. Joseph Thompson brought a small brown female cat Wong Mau from Thai– Burma in 1930. Soon after, in 1936, the Cat Fanciers' Association (CFA) registered the Burmese cats, and later on, these cats were accepted in all cat registries.
Burmese cats inherit the Burmese gene, which is responsible for reducing the amount of pigment in their coats. When it comes to their coats, they inherit the short and silky coats that require very little grooming, like petting on a daily basis.
Burmese cats can have various shapes and sizes, but Burmese with short bodies and round heads will definitely be show cats.
They have cute eyes that will instantly make you fall in love with them. They are full of affection and won't make a fuss about sharing it with their human friend. They are playful, and they need mental stimulation.
Burmese kitties will be playful until they reach adulthood, but then once more, you'll be amazed at how intelligent this breed is.
Now let's see where you can get one for yourself!
Burmese Kittens For Sale
You need to purchase a Burmese kitten from a reputable breeder that can provide you with a cat true to the breed standard. It would be great if you didn't even search in pet shops.
A responsible breeder will gladly invite you home in order to check all the things you're interested in. The breeder's home should be relatively odor free and clean.
The kittens provided should be easily handled, full of energy, and curious about the environment around them. They should appear healthy with clean noses, ears, eyes, and coats. A trustworthy and responsible breeder should provide you with a health guarantee as well as an insight into possible health issues due to the lineage.
After the kitten is altered, you need to get registration papers as well as suggestions about the vet check-ups and a refund if they don't justify their quality.
The breeder should gladly answer all your questions that come up during the interview when it comes to your potential kitten. Now, straight to the point, Burmese Cat breeders are waiting.
1. Indian Spring Cat, Washington
The first Burmese cat breeder we will mention is a cattery in Washington D.C, the Indian Spring Cat. This breeder has gorgeous Burmese cats even though they are not like American Burmese at cat shows.
Their physical characteristics are super short coats, long noses, and eyes that come in all shades possible. The aim of this breeder is not to produce cats for shows but cats that are strong, healthy, and very well-socialized.
The breeder's focus is on breeding cats for personality and health that will bring nothing but happiness to future owners. The Burmese dog-like character is definitely something that sets apart these cats off from other cat breeds.
All of the American Burmese cats in Indian Spring Cat's breeding program have a fun personality that is often associated with the Burmese breed. Those cats are forever friends and demanding, and these cats will keep you busy!
If you are interested in a healthy and loving Burmese cat, this is the cattery for you. Important to note that they often have a Tonkinese cat breed in the litter.
Feel free to contact them.
Indian Spring Cats Info
• Address: Washington D.C
• E-mail: dougschar@aol.com
2. Acrocats Burmese Cattery, Florida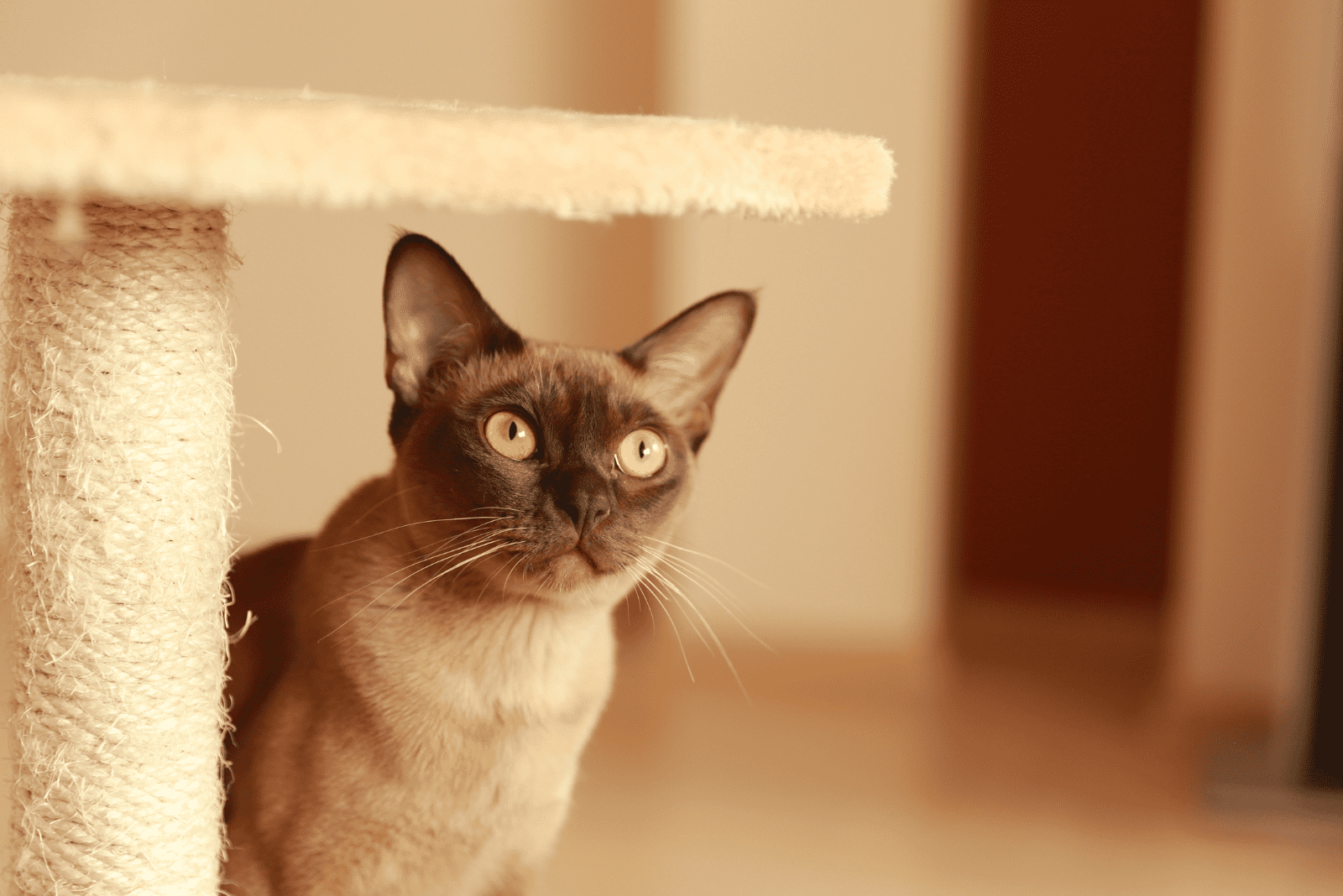 Our next spot is in Florida, a small cattery located in Orlando, the Acrocats Burmese. This breeder has been breeding and showing Burmese cats in CFA for over 20 years.
Their aim is to produce healthy Burmese cats that are true to the CFA show standard.
Acrocats Burmese is a member of the CFA Burmese Breed Council, CFA's only national Burmese breed club, NABB, and the National Alliance of Burmese Breeders.
Each year a few kittens are available in this cattery. Kittens are mostly sable, but sometimes they happen to have champagne Burmese. They don't have a waiting list because the demand is high, so you can check out their page and subscribe to email updates.
Acrocats Burmese Cattery Info
• Address: Orlando, Florida
• Website: Acrocats Burmese Cattery
• Phone Number: 407 359 8877
• E-mail: acroburm@earthlink.net
• Instagram: Acrocats Burmese Cattery
• Facebook: Acrocats Burmese Cattery
3. Amalurra, Minnesota
Amalurra is a small family-based cattery that raises Burmese kittens that grow in their home as parts of the family. The cattery is watched over their gorgeous Golden Retriever.
The Burmese cats they specialize in are platinum, champagne, blue and sable Burmese. The love you give to those little cuties will be reciprocated. The kitten will come with a health guarantee, and the contract needs to be signed.
Amalurra works with other breeders in order to provide diversity in genetics and health for the interest of the Burmese breed. With the first two sets of vaccines, kittens are prepared for the new homes around 12 to 16 weeks of age. They don't ship their kittens, so they need to be hand-carried.
For more information, check out their website.
Amalurra Info
• Address: Twin Cities, Minnesota
• Website: Amalurra
• Phone Number: 651 261 8013
• E-mail: kittens@amalurracats.com
4. Qwan Yinn, Texas
Qwan Yinn is a registered cattery by TICA and CFA. This breeder produces Burmese of champagne, sable, platinum, and blue color.
The kittens can be taken around 12 and 16 weeks, determined by the breeder; they'll come with a health guarantee, and they need to be spayed or neutered around 6 months of age. They are FeLV negative, and the tests are done every year. You'll need to sign the contract.
This breeder looks for responsible cat owners that will love and cherish the cat as part of the family. They also need to ensure that your new feline friend will be an indoor cat. Every cat is sold with the stipulation that it must not be declawed, and they need to be returned if the owner cannot keep them anymore.
If you are interested in this breeder and what they have to offer, feel free to contact them.
Qwan Yinn Info
• Address: Near Fort Worth, Texas
• Website: Qwan Yinn
• E-mail: qwanyinnburmese@gmail.com
5. Catvocal Cattery, Pennsylvania
Last but not least is Catvocal Cattery, located in Pennsylvania, which specializes in Burmese sable kittens and Bombay cats that are born and raised in their home.
Their demand is to sell kittens that will be indoor cats and under no circumstances declawed. The kittens can go to their forever homes after the vet check-up and 2nd vaccination. The kittens will be socialized and CFA registered before the purchase.
They don't ship their kittens, so make sure to check their website for additional information if you're interested in this cattery.
Catvocal Cattery Info
• Address: Lake Ariel, Pennsylvania
• Website: Catvocal
• E-mail: zadurkin@gmail.com
What Is The Average Price Of A Burmese Cat?
Of course, another thing you're interested in is the price of this gorgeous cat breed. You can expect to see the costs of the Burmese cat going from $600 to $1,000 for a Burmese kitten.
However, you can pay even more if you search for a particular color. The blue ones are quite a catch these days. Expect to see prices going up to $2,500 for a kitten from a respectable breeder.
Besides that, you'll need to spend more on your feline friend's essentials, especially if you are a new cat owner.
RELATED: How Big Of A Cat Tree Should I Get?
Final Thoughts
I hope that you'll find your true match in our Burmese cat breeders list. These cats are wonderful to the extent that you'll be hooked forever once you get to know them.
Whichever breeder you choose, make sure you cherish and love your Burmese kitten; take good care of her, as you will affect their health and lifespan. Feed your cat with quality food, and feel free to enjoy fun activities together.
However, if you are interested in having a cat with genetic diversity, like Siamese cats, Tonkinese, and Burmese, you can look up a wonderful Thai cat.
Good luck!
Related Content
• 9 Best Cat Litters For Small Apartments
• How To Select A Carrier For Your Cat?
• How Much Does A Sphynx Cat Cost? Everything You Need To Know