Are you looking for beautiful European Maine Coon kittens for sale? I've got you covered!
But first, let me explain one of the most important questions about these kittens: European and American Maine Coons aren't two separate breeds.
This is the same cat breed, so, you can expect the European Maine Coon to be equally affectionate and friendly as the one that originated in the US.
However, there are some physical differences between these two. European Maine Coons have a stronger muzzle which is square-shaped. They also feature a longer tail and elongated ears.
While the American Maine Coon has a softer look, the Europeans appear more majestic. Their size is the same, as well as their overall body build.
Despite European Maine Coons looking a bit wilder, their personality is just as docile and gentle as we are accustomed to seeing in this breed.
If you find the description of this cat appealing, this is the article for you! The following is the list of seven reputable breeders that offer European Maine Coon kittens for sale.
1. Always Loyal Maine Coons, New York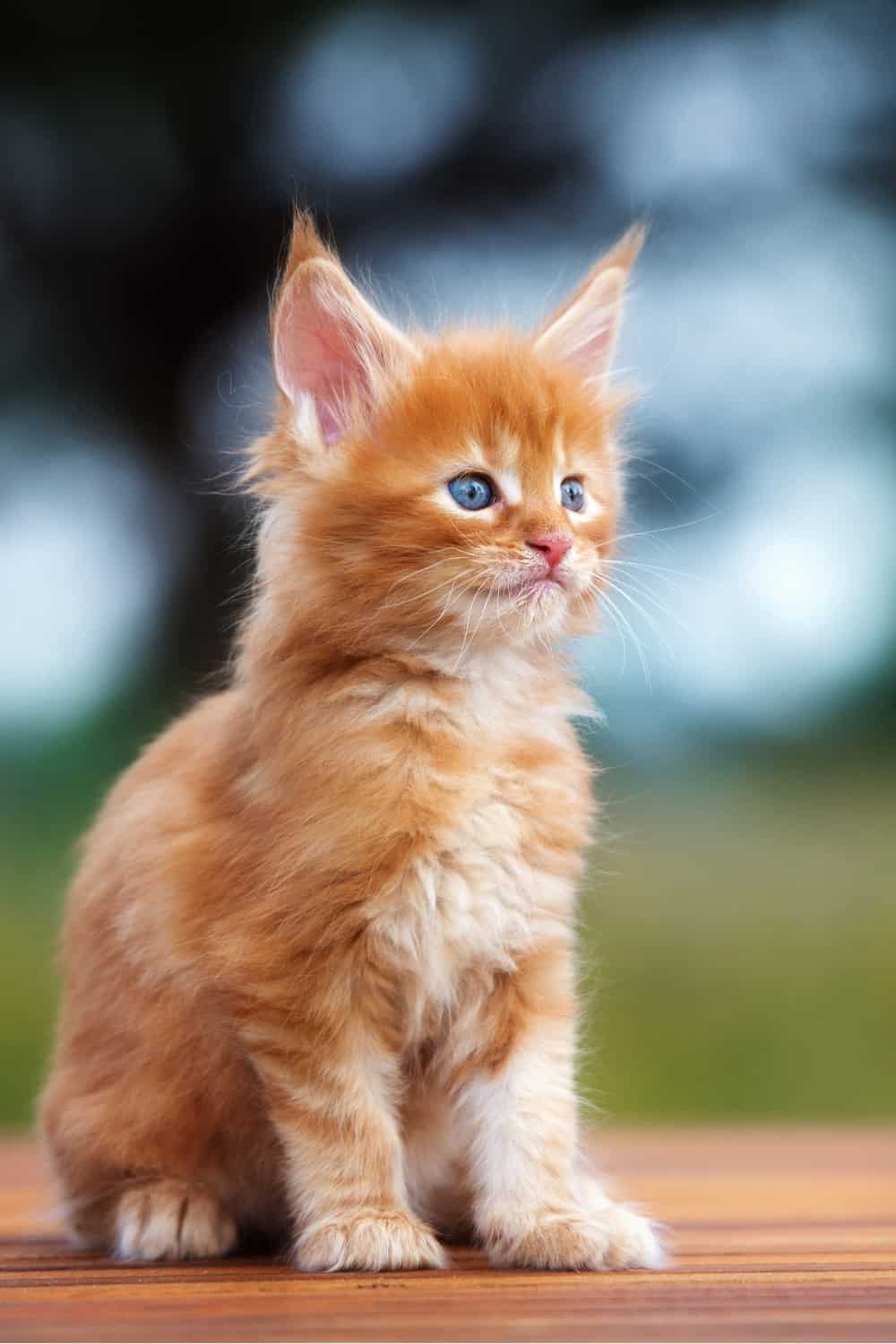 Always Loyal Maine Coons is a CFA and TICA-registered cattery in New York.
These breeders import their Maine Coon cats from European bloodlines and focus on their health and character.
This cattery isn't open to the public, so kitten pickups are available only by appointment. The price for a kitten from Always Loyal Maine Coons varies from $3,000 to $4,000, depending on their coat color.
The price includes the non-refundable $500 deposit to reserve your kitten. These breeders provide their customers with a lifetime guarantee against elbow and hip dysplasia for their Maine Coons.
They also give a 12-month guarantee against congenital defects. Their kittens are FIV and FeLV negative. They are all dewormed and vaccinated before leaving the cattery.
Breeder Info
Location: Saratoga Springs, NY
Website: Always Loyal Maine Coons
Facebook: Always Loyal Maine Coons
Instagram: Always Loyal Maine Coons
Phone number: +1 518-832-0227
E-mail: AlwaysLoyalMaineCoons@gmail.com
2. AttyKats Maine Coon, Florida And Oklahoma
This cattery is situated in two locations – Florida and Oklahoma.
AttyKats is a CFA-registered cattery that was established in 1998. Since then, these breeders have been raising amazing European Maine Coons.
They breed European Maine Coon kittens in several colors, such as silver tabby, silver, and black smoke.
The price for their male kittens goes from $4,000 to $4,500. Females are slightly cheaper, with the price going from $3,500 to $4,000. The price includes a $500 deposit.
AttyKats' European Maine Coons have huge muzzles, stunning coats, giant tails, and, most important of all, amazing personalities.
This cattery typically has about 10 litters a year, which is about 40-60 kittens in total.
Breeder Info
Location: Valrico, FL, and Lake Texoma, OK
Website: AttyKats Maine Coon
Phone number: +1 (813) 815 4889
E-mail: kittens@attykats.com
3. EuroCoons Maine Coon Cattery, Kansas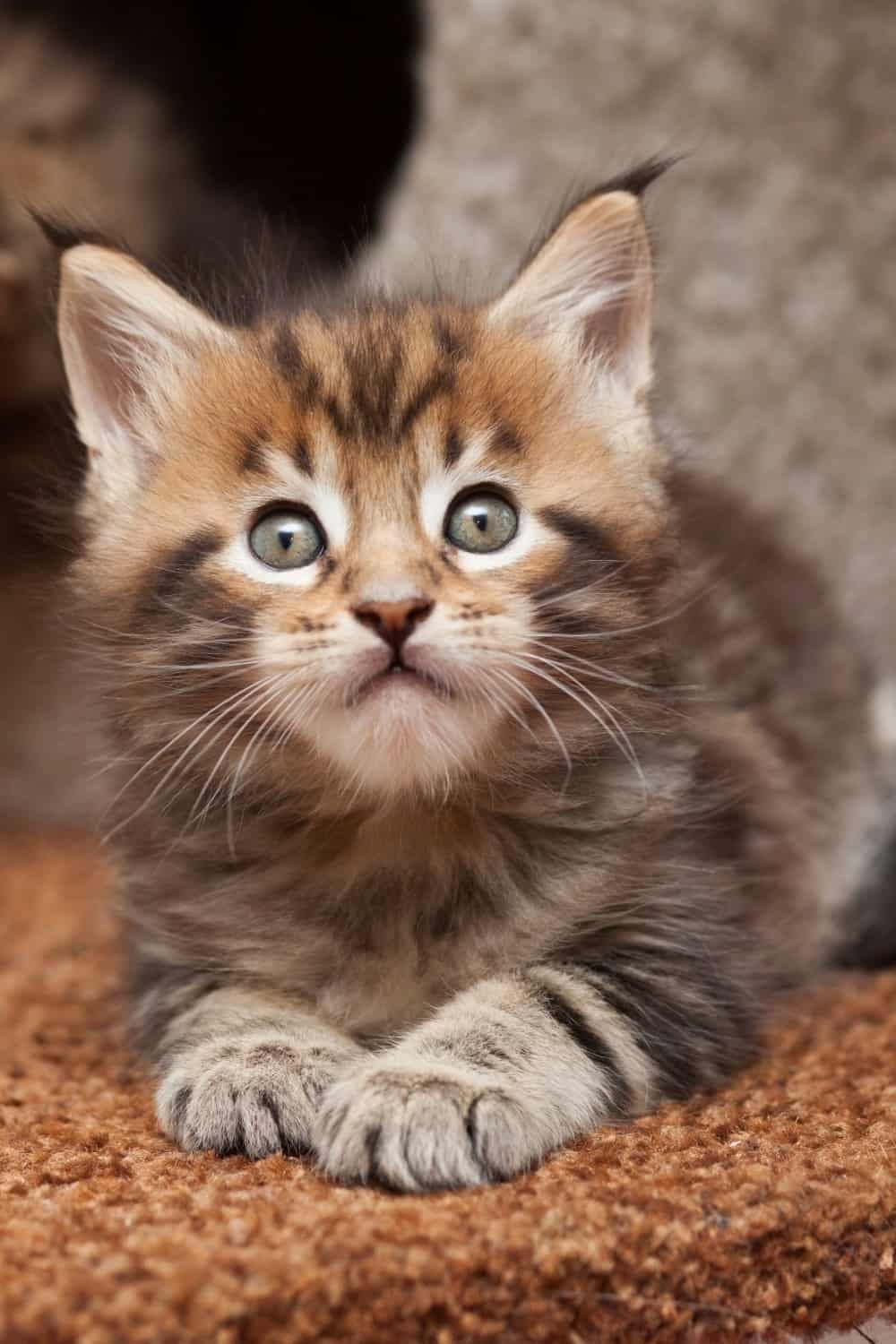 This cattery in Kansas has been offering purebred European Maine Coons since 2015.
Their registration with CFA and TICA stands as a testament to the responsible breeding practices employed by Olga Winn, the driving force behind this cattery
She and her family do their best to raise healthy European Maine Coons with stable temperament and amazing social skills.
The starting price for a male Maine Coon from Eurocoons cattery is $4,500. Female kittens' starting price is $3,500.
The price includes the following:
• Spaying/neutering
• First rabies vaccination
• Veterinary health certificate
• TICA or CFA registration certificate
• Microchip
• Gift bag
This cattery imports top European Maine Coon show bloodlines. Each of their Maine Coon kittens is raised inside their home, and provided with socialization and affection.
Their cats are negative for over 40 genetic disorders.
Eurocoons breeders offer Maine Coon in various colors, such as black, blue, cream, tortie, pale silver, and chinchilla.
Their kittens are ready to go to their forever homes at 12 weeks of age.
Breeder Info
Location: 22036 Linwood Rd, Linwood, KS, 66052
Website: EuroCoons Maine Coon Cattery
Instagram: EuroCoons Maine Coon Cattery
Phone number: +1 (913) 563-0043
E-mail: kittens@eurocoonsmainecooncattery.com
4. Mitcha Coontails, Texas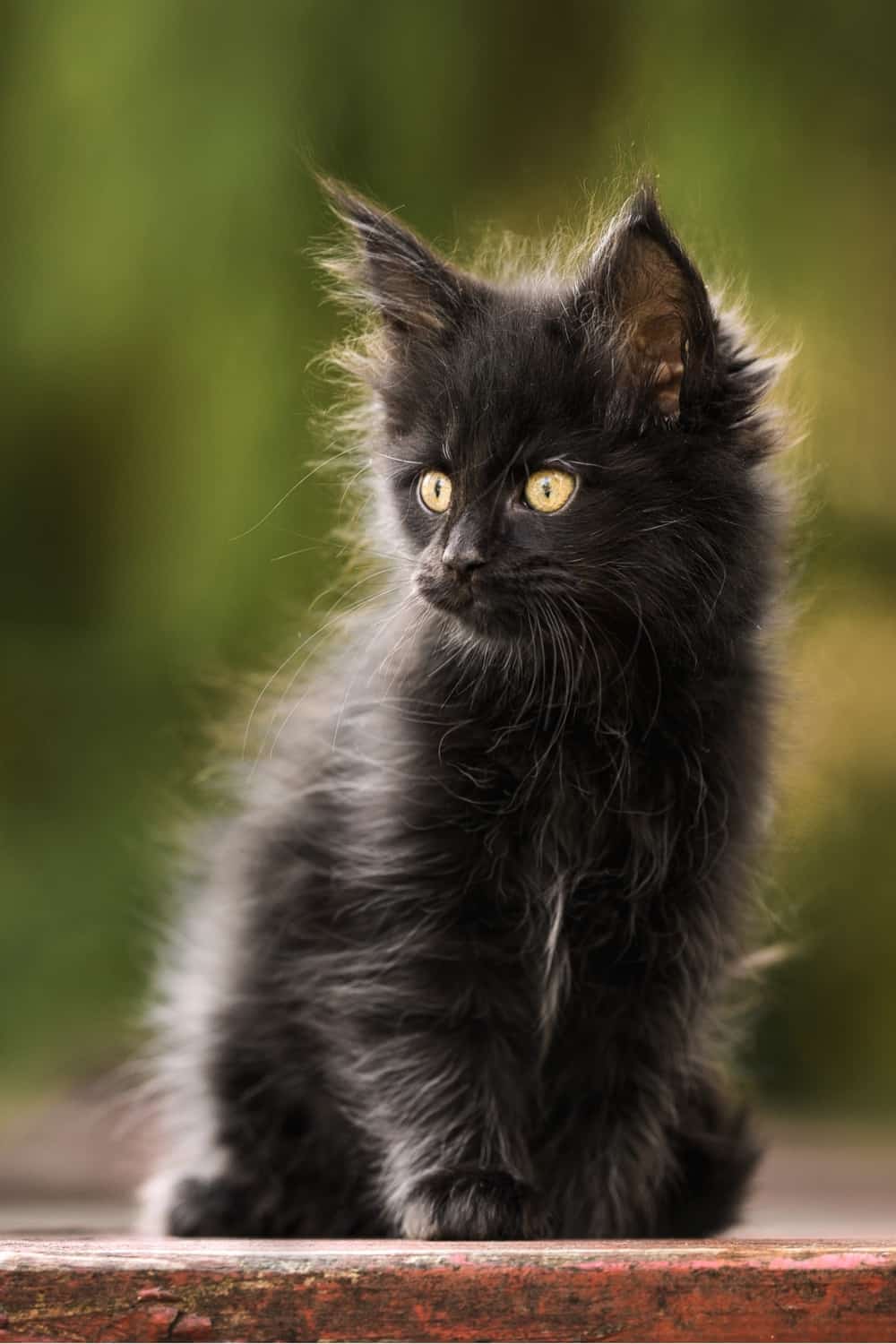 Breeders from Mitcha Coontails cattery are dedicated to raising healthy European Maine Coon cats in accordance with the breed standard. This cattery is based in Houston, Texas, and is CFA and TICA-registered.
They test their cats for over 40 genetic diseases, including Polycystic kidney disease and Hypertrophic Cardiomyopathy.
Male Maine Coon kittens from Mitcha Coontails cattery are priced at $4,200, while females are available for $3,900.
Once their kittens reach 8 weeks of age, these breeders announce them as available on their official website. This is when they start receiving reservations.
Their kittens are ready to leave the cattery at 12 weeks of age.
This cattery doesn't allow visits, since they consider it too stressful for their breeding cats to constantly see strangers. Of course, this is also important to prevent infections in the cattery.
Breeder Info
Location: Houston, TX
Website: Mitcha Coontails
Facebook: Mitcha Coontails
E-mail: mitchacoontails@hotmail.com
5. Moosehead Maine Coons, Maine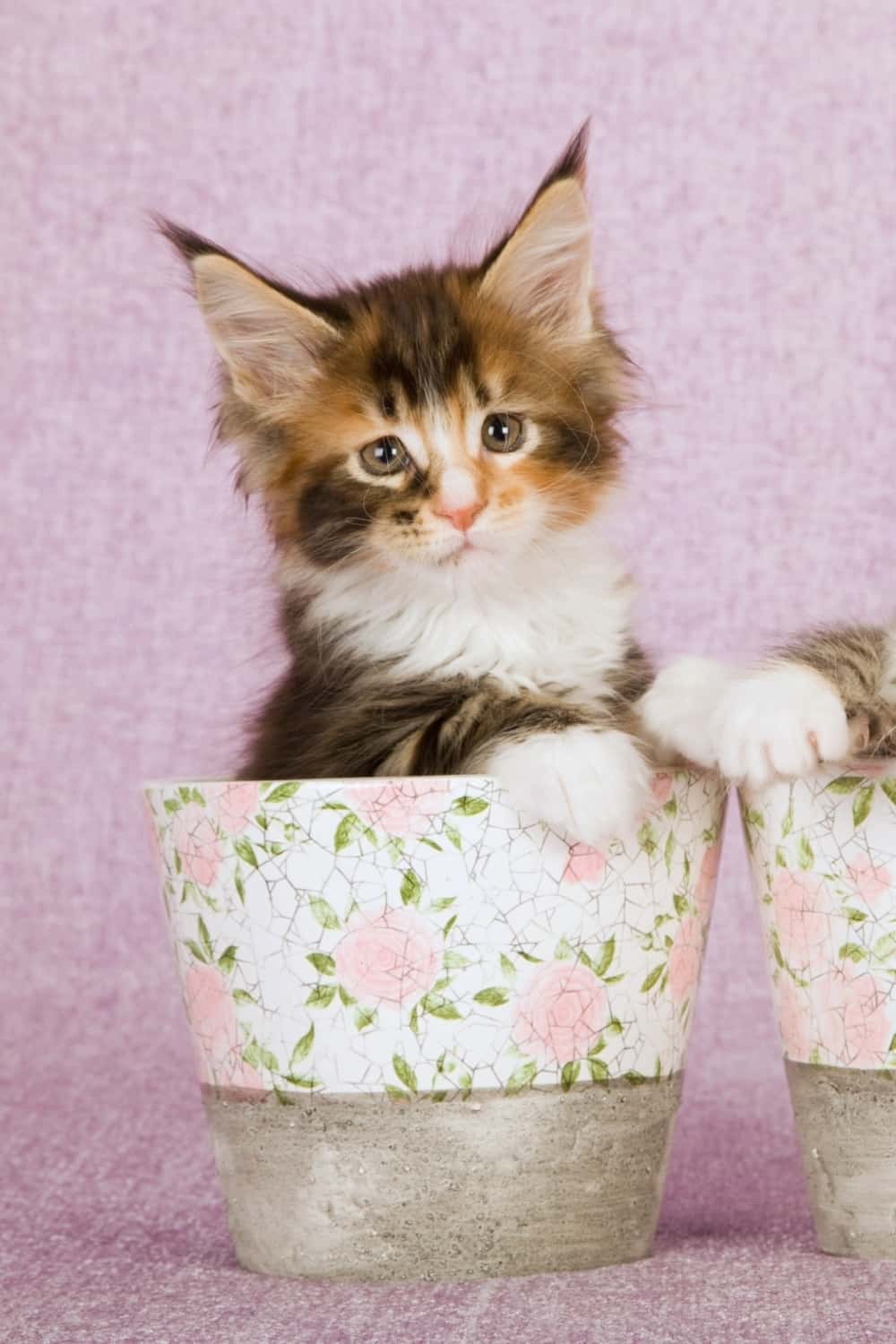 This cattery is located on beautiful Moosehead Lake and is surrounded by wildlife and pristine waters.
Moosehead breeders do their best to raise perfectly healthy, gentle, and well-socialized European Maine Coons.
Their breeding cats are tested negative for FIV and FeLV before they become a part of their breeding process.
Their kittens come with the following:
• Health warranty
• Appropriate deworming and vaccinations
• Microchips
• CFA registration papers
• Kitten food
• Selected toys
• Travel carrier
Moosehead breeders carefully choose and import their breeding cats from the finest Maine Coon breeders in Europe.
They take care their Kings have a muscular build, tufted ears, and a distinctive wild appearance. For their female cats, they prioritize gorgeous coats, tipped ears, long tails, and a captivating wild expression.
Their kittens are ready to leave for their forever homes between 10-12 weeks of age. This cattery also doesn't allow visitors to interact with their Maine Coons.
Since kittens have a fragile immune system, this is the best decision a responsible breeder can take.
Breeder Info
Location: 795 Lily Bay Road Box 301, Beaver Cove, ME 04441
Website: Moosehead Maine Coons
Phone number: +1 207-745-9691
6. Sassy Koonz, Florida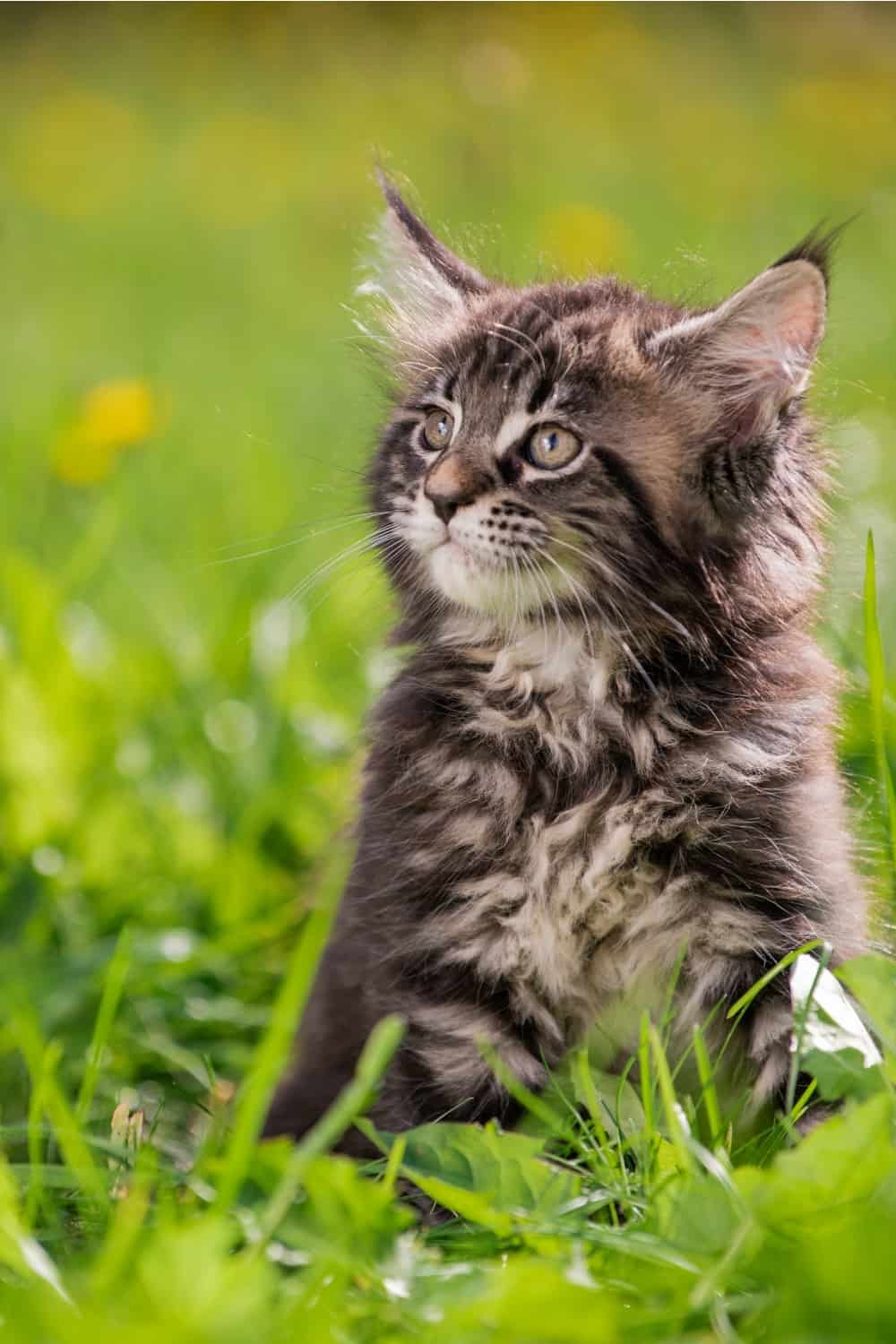 Sassy Koonz is a cattery located in Florida that pays special attention to their cats' pedigrees, genetics, and health history.
They raise 100% European purebred Maine Coon kittens. These breeders only have a couple of breeding cats, and a limited number of litters per year. Usually, this turns out to be between 30-40 kittens in total. This means they focus on quality rather than quantity.
Sassy Koonz's kittens are raised as a part of the family. They have a friendly temperament and make wonderful companions for humans.
The cost for a Maine Coon kitten from Sassy Koonz cattery is $4,900.
These breeders breed solid colors such as red, black, and white. Occasionally, they also offer smoke and silver Maine Coons.
You can find reviews of many satisfied owners on the Sassy Koonz official website.
Breeder Info
Location: Jacksonville, Florida
Website: Sassy Koonz
Facebook: Sassy Koonz
Phone number: +1 (904) 335-8845
E-mail: info@sassykoonz.com
7. Warrior Kattz, Texas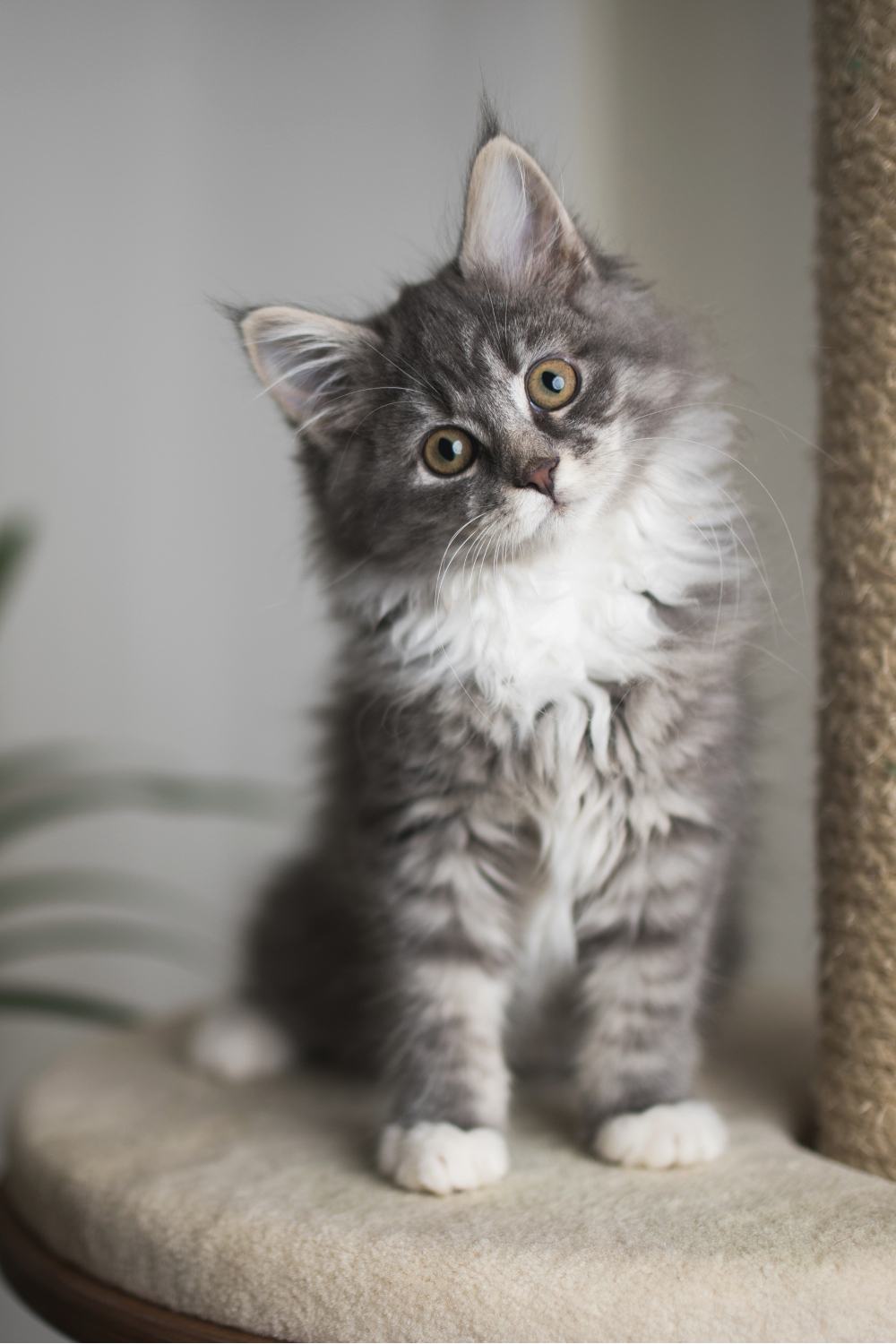 Last but not least, Warrior Kattz is another reputable cattery, located in Wimberley, Texas.
This is a family-run cattery that breeds happy, hardy, and well-balanced European Maine Coons. The price for their kittens is $4,250, with a $500 deposit included.
Prior to leaving the cattery, their Maine Coons receive age-appropriate core vaccinations, undergo deworming, and undergo a comprehensive veterinary examination.
Warrior Kattz breeders invest a lot of effort to socialize their kittens. They expose their Maine Coons to everyday noises and experiences from a young age. This helps kittens to adjust easily to any kind of environment.
These breeders send their kittens with a few items to their forever homes. These include some food, toys, and a blanket with the smell of their mother and littermates. This also helps the transition to their new home to go as smoothly as possible.
Warrior Kattz cattery doesn't allow visitors, since this cattery is basically a part of their home. Their priority is keeping their cats safe and healthy.
Breeder Info
Location: Wimberley, TX
Website: Warrior Kattz
Facebook: Warrior Kattz
Instagram: Warrior Kattz
Final Words
All Maine Coons are wonderful. They have an amazing look and even more wonderful personality, making this breed one of the most desirable for a family companion.
But, there's something truly special about the European Maine Coons. They are equally loveable, friendly, and intelligent as the American ones. Still, they look a bit more like wild cats, which, in my opinion, makes them even more appealing!
These seven breeders with European Maine Coon kittens for sale are responsible and trustworthy. They adhere to the breed standard in raising their kittens and strive to produce healthy, well-balanced, and socialized cats.
These are the catteries you should look for if you're considering welcoming a European Maine Coon into your home.
I hope you've found the ideal place to find your future kitten on this list. And I sincerely wish that soon, the delightful sounds of a Maine Coon's meows will fill your home all day long!