Welcome, you cat lover! You're probably looking for the best Snowshoe cat breeders since you're here. What made you choose the Snowshoe cat? Maybe their outgoing personality, loyalty, or that they make perfect companions?
Snowshoe cats are somewhat shy when they're around strangers, but over time, they become relaxed, and they also get along with other cats. This is the type of cat that will perch beside you and touch you gently with its paw until you notice that you need to pay attention to them and treat them with some sweet cuddles. These cats are known for their gorgeous blue eye color.
This Snowshoe cat breed is extremely intelligent, and it can be taught to do many different tricks and behaviors, and sometimes, if they're in the mood, it'll teach you some tricks. These cats adore running water, so don't be surprised if they snuck into the bathroom when you're showering.
Snowshoe cat is a big fan of the running of small items and dunking them into the sink or something. That's why they are first to blame if you miss a pen, sock, or another personal thing.
Even though they're not melodic and vocal as Siamese, they won't be quiet either; however, their voices are primarily melodic and soft.
Snowshoe Kittens For Sale
Before we start with the Snowshoe cat breeder's list, we need to see how this cat breed came to life.
At the end of the 1960s, Dorothy Hinds-Daugherty of Kensing Cattery in Philadelphia, a Siamese breeder, produced a litter of three Siamese kittens with pure white mittens. She decided to turn these into a breed instead of giving them away.
She decided to reproduce the look by breeding a bicolor American Shorthair with a seal-point Siamese cat which resulted in kittens without Siamese pointed pattern due to the recessive gene that both parents need to carry. After that, she bred the resulting kittens with Siamese mates. Continuing crossbreeding with American Shorthair bi-colors resulted in the V pattern inverted on the muzzle and on the nose, which is the opinion of that breeder, a charming variety.
The new breed was named the Snowshoe due to their paws that looked like they were in the snow.
Now, let's see adoptable Snowshoes from our Snowshoe cat breeders list.
1. Sapphirestar Cats, United Kingdom
Sapphirestar Cats is a registered breeder of pedigree Snowshoe cats located in the United Kingdom. The breeder grew up with cats, as its parents had an Abyssinian cross male, and throughout childhood, the family always had a rescue cat. Once the breeder grew up and moved into its own home, the realization that the cat needed to be at home came. And after that, a succession of rescue cats was a big part of the breeder's life.
The overall aim of the breeding program is to produce well-socialized and healthy Snowshoe kittens that will win the hearts of others. These cats are interactive and intelligent, and it is quite a pleasure to live with them. If your heart desires a perfect companion, this cat breed is the top choice.
When raising Snowshoe kittens, this breeder raises for temperament and health in the first place and for good Snowshoe type, luckily with a pattern that has the predisposition to be a top show cat!
The kittens are raised underfoot in their family home. It is obvious that the kittens are loved, happy and healthy and enjoying every minute of it. The Snowshoe kittens in this cattery are handled daily from the moment they come into this world, and they are playful, interactive, and sociable and make wonderful companion cats.
This breeder can offer you purebred Snowshoe kittens from the UK and worldwide lines and descendants of British Shorthair and Siamese cats that brought the new bloodlines into this breed.
Breeder's Info
• Location: United Kingdom
• Website: Sapphirestar Cats
• Email: katy@ramsden.uk.com
2. Pacific Northwest Snowshoe Cats, Oregon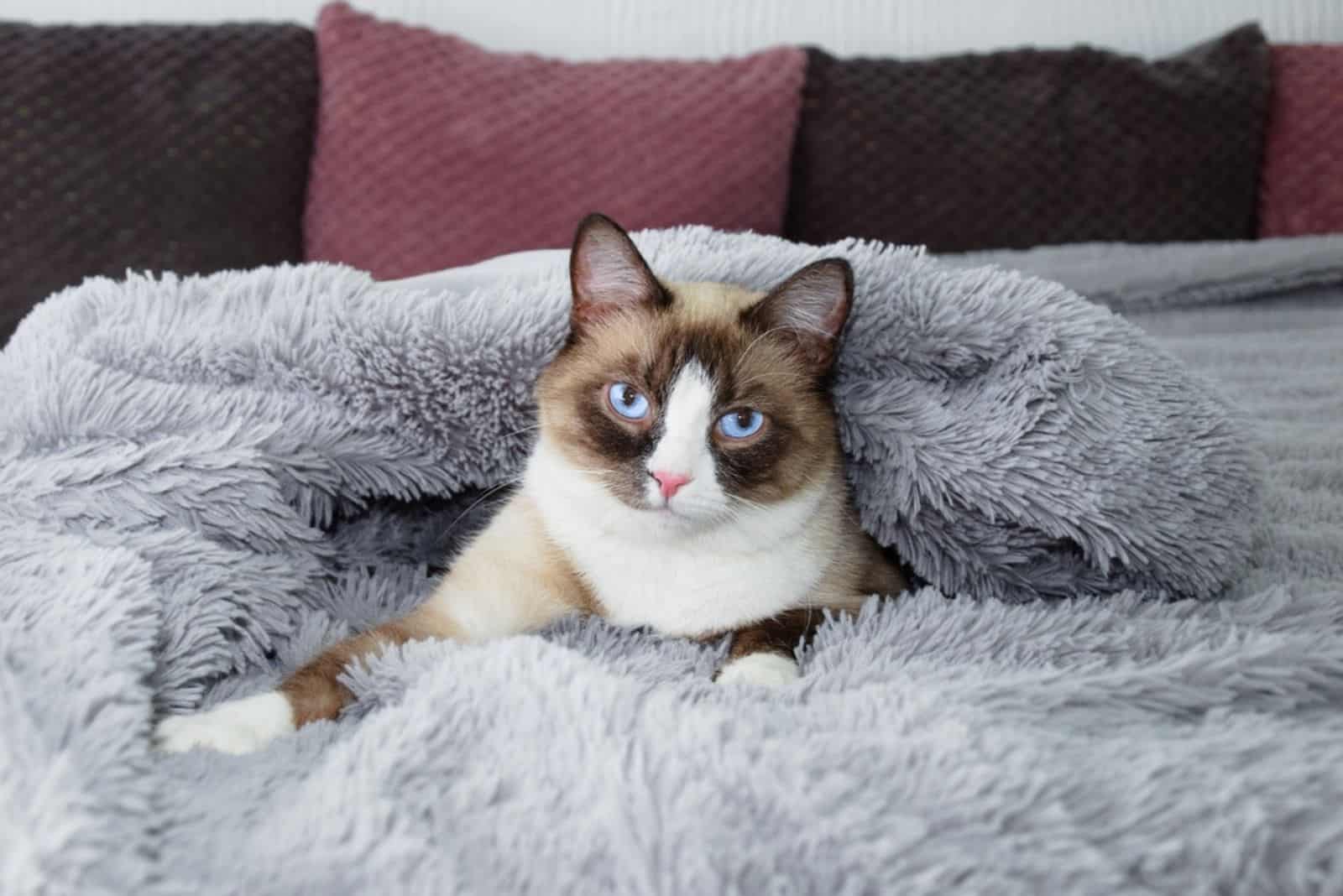 Pacific Northwest Snowshoe Cats is a TICA-registered cattery located in Eagle Point, Oregon. This is a new small breeder of Snowshoe kittens that aims to become a Snowshoe Cattery resource on the West Coast of the United States.
This breeder breeds Snowshoes of pet quality and is soon to have kittens, so make sure to contact them for more information about the litter.
Breeder's Info
• Location: Eagle Point, Oregon
• Facebook: Pacific Northwest Snowshoe Cats
• Telephone: 909 434 3841
• Email: aanagram@gmail.com
3. Kim, California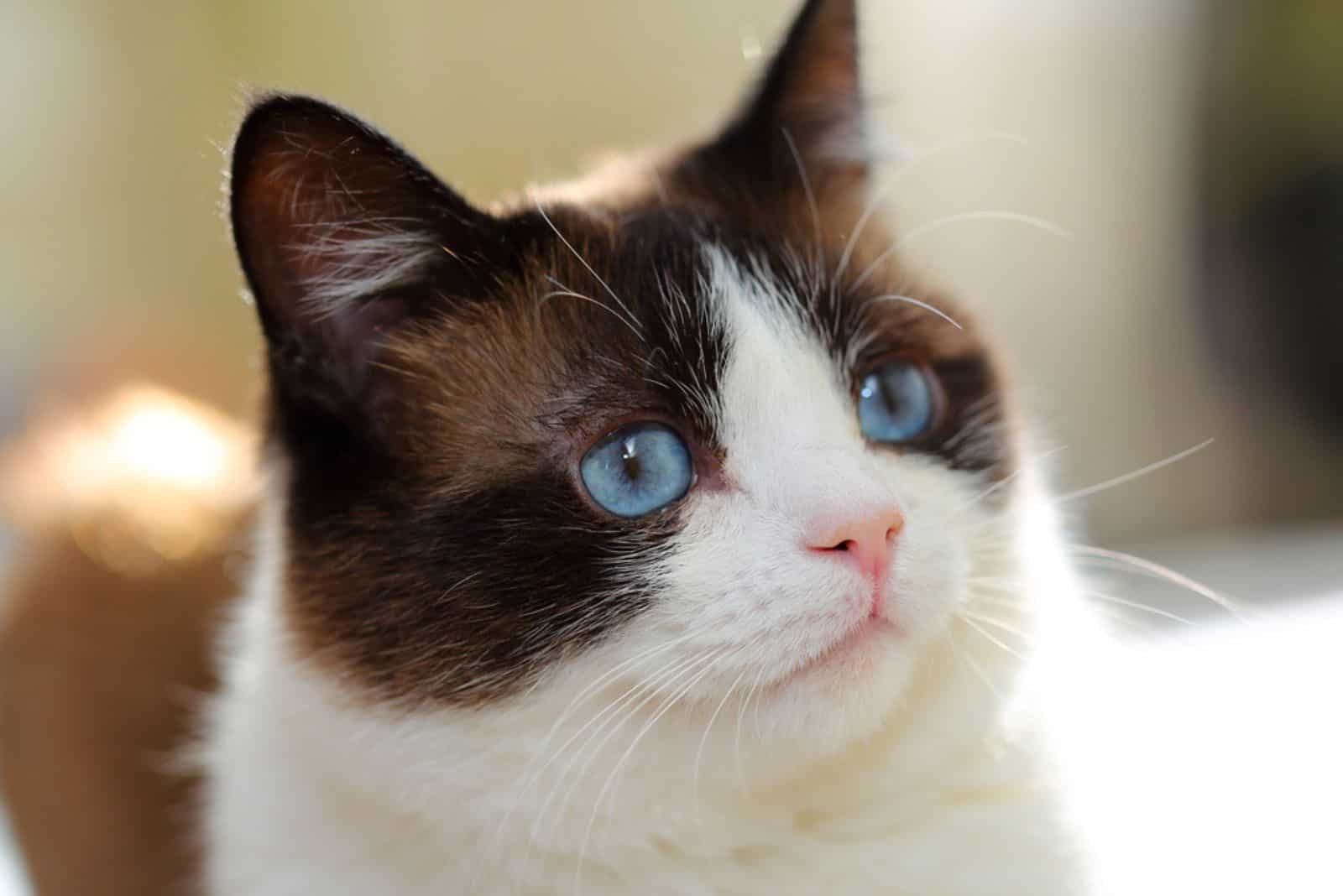 Kim is a responsible hobby breeder from Sacramento, California. With her husband, Kim is a working professional that adores cats. They have been breeding for 5 years now and have devoted their lives to making people happy with their Siamese and Snowshoe kittens.
They now have four gorgeous Snowshoe kittens, so make sure to contact them as soon as possible. Their kittens are well-raised, socialized, and healthy, and they walk on leashes and fetch. They're open to sending pictures and videos if you're interested.
Breeder's Info
• Location: Sacramento, California
• Telephone: 916 960 3813
• Instagram: Kim
4. Blue Eyes, Maryland
Blue Eyes, located in Maryland, is a responsible breeder of Balinese, Oriental, Siamese, Thai, Colorpoint Shorthair, and Snowshoe cats.
As a member of the Traditional Cat Association, this breeder only has cats of imported Grand Champion and Regional Winner lines.
The colors they can offer are chocolate, seal, lilac, blue, lynx, and snowshoe. The kittens are never caged, and they're raised underfoot in a clean 8000-square-foot home. This is a holistic cattery that puts the kitten's best interest first place.
From the moment they're born, kittens are handled and well taken care of, showered with love and attention. All of that makes them outgoing, friendly, and affectionate kittens that are ready for new owners and new situations. On their Facebook website, you can find many testimonials and kittens that went to new homes.
The kittens are only fed with grain-free, natural, and top-quality food that will provide needed nutrients without cheap and bad fillers or additives. This breeder uses biodegradable, natural, and chemical-free litter. The kitten will come with a care package of dry and wet food, litter, and so on.
Pet kittens are altered prior to leaving, FIV and FeLV negative, with a written health guarantee and written sales contract, and the spay or neuter surgery is also done.
Kittens are bathed, with their teeth brushed and their nails trimmed. The breeder focuses on breeding for quality over quantity. Visit their website to see more information on their raising of kittens and photos of them and possibly to get in contact.
Breeder's Info
• Location: St. Mary's County, Maryland
• Website: Blue Eyes
• Telephone: 240 925 3058
• Email: info@marylandsiamese.com
• Facebook: Blue Eyes
5. BellesnBeaux Snowshoe Cattery, Pennsylvania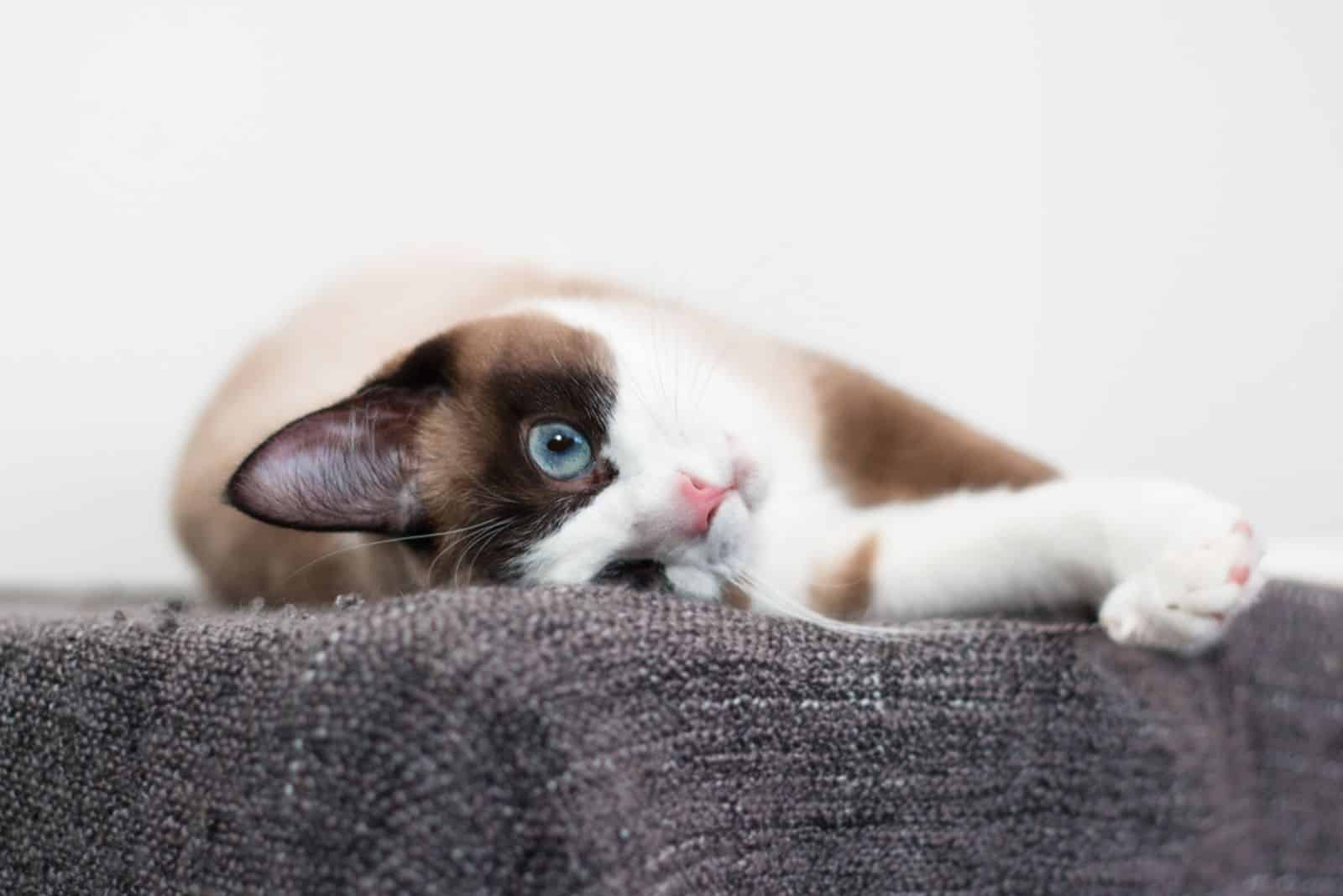 BellesnBeaux Snowshoe Cattery is a small TICA-registered cattery that is located in Southeastern Pennsylvania. Dedicated to breeding and raising loving and healthy Snowshoe kittens, this breeder promotes this gorgeous breed at its best.
Their kittens are intelligent, lively, and affectionate felines that will make every day happier and better. Their cattery is a proud representative of the TICA's most highly decorated Snowshoe kittens.
Breeder's Info
• Facebook: BellesnBeaux Snowshoe Cattery
How Do I Know If My Cat Is A Snowshoe?
Snowshoe cats are those cats that have completely white paws; they have to have blue eyes and sometimes V-shaped marks on their face. However, you can always do genetic testing in order to see the whole bloodline of your cat.
What Are The Colors Of A Snowshoe?
The Snowshoe cat is a medium-sized cat breed that has the looks of the Siamese cat but the body of an American Shorthair. Their recognizable traits are pure white paws, deep blue eyes, and the V inverted marking on their face.
But what colors can a Snowshoe cat have? Their short coat can come in lilac, chocolate, blue, and seal. However, their tail, legs, eyes, and mask are usually darker than the rest of the body.
All Snowshoe kittens are born white, but their colors appear in a few weeks; this is due to the Himalayan gene of Siamese that is heat-sensitive. Interesting thing is that you can never see two Snowshoe kittens that have the same pattern and markings.
What Is A Snowshoe Best For?
Snowshoe cat is a highly intelligent cat that can be trained to play fetch, walk on leashes, and enjoy good play in the water. They're the best for those who would like a playful and active feline that will be a perfect companion for anything, in fact.
What Is A Snowshoe Cat's Average Lifespan?
The Snowshoe life expectancy is about 12 years. However, the life expectancy of one cat will depend on its health, environment, diet, active lifestyle, and so on. Cats can even reach a life expectancy of 20 years.
How Much Does A Snowshoe Cat Cost?
As a relatively new breed and quite rare, in my opinion, they're not that expensive. The average cost for a Snowshoe kitten is around $500 to $800. However, it can be pricier if you want a show quality and if you want to purchase from a well-known breeder, around $800 to $1200.
In Conclusion
Whether you get a female or male Snowshoe, you're bound to have a truly loving and affectionate feline that will lighten up your day.
You're looking for the best Snowshoe cat breeders, and we've listed those that we found that can offer you healthy and happy Snowshoe kittens.
Being a cat owner is a big deal; it's like having a child in some way; that means you need to take great care of it, make sure to give them the best quality food, take them to the vet regularly, clean them, pet them, and so on. But, most importantly, you need to offer them all your love since a happy kittie is a healthy kittie.
You can also check for breeds like Oriental Shorthair, Domestic Shorthair, Bobtail, Manx, Egyptian Mau, Turkish Van, or Turkish Angora, as they are also gorgeous and great family pets.
Related Content
Russian Blue Maine Coon Mix – Meet This Gorgeous Mixed Breed
Long-Haired Calico Cat – What Is Hiding Behind That Fur?