I believe any cat fancier who has been looking for a breed with desirable traits has considered Maine Coon cats.
This cat is one of the most popular choices for a pet nowadays. Not only is it gentle and affectionate with its owners, but it's also highly intelligent and trainable.
If you're living in the state of Maryland and are currently looking for a Maine Coon kitten, this is the best place you could have come across.
Below is a list of five reputable Maine Coon breeders in Maryland. These individuals are dedicated to raising beautiful Maine Coons with excellent health and stable temperaments.
Let's look at their breeding practices up close.
1. Charm City Cat Cattery, Dunkirk
This is a family-owned cattery raised in Dunkirk, Southern Maryland. They're located near the Chesapeake Bay.
Breeders from the Charm City Cat Cattery breed and raise their Maine Coons in their loving home and treat them as a part of their family.
They focus on raising healthy, happy, and beautiful Maine Coons. This cattery is CFA and TICA registered.
These breeders point out how the sweet and loving Maine Coon breed makes a perfect companion. They also explain how these cats thrive in families with children and other pets, even dogs!
Charm City Cat Cattery breeders regularly share the photos of their amazing kittens on their social media profiles.
You should check their Instagram profile and their official website to see whether there are any kittens available at the moment.
Breeder Info
Location: Dunkirk, MD 20754
Website: Charm City Cat Cattery
Instagram: Charm City Cat Cattery
E-mail: info@charmcitycatcattery.com
2. Freyja's Maine Coons, Centreville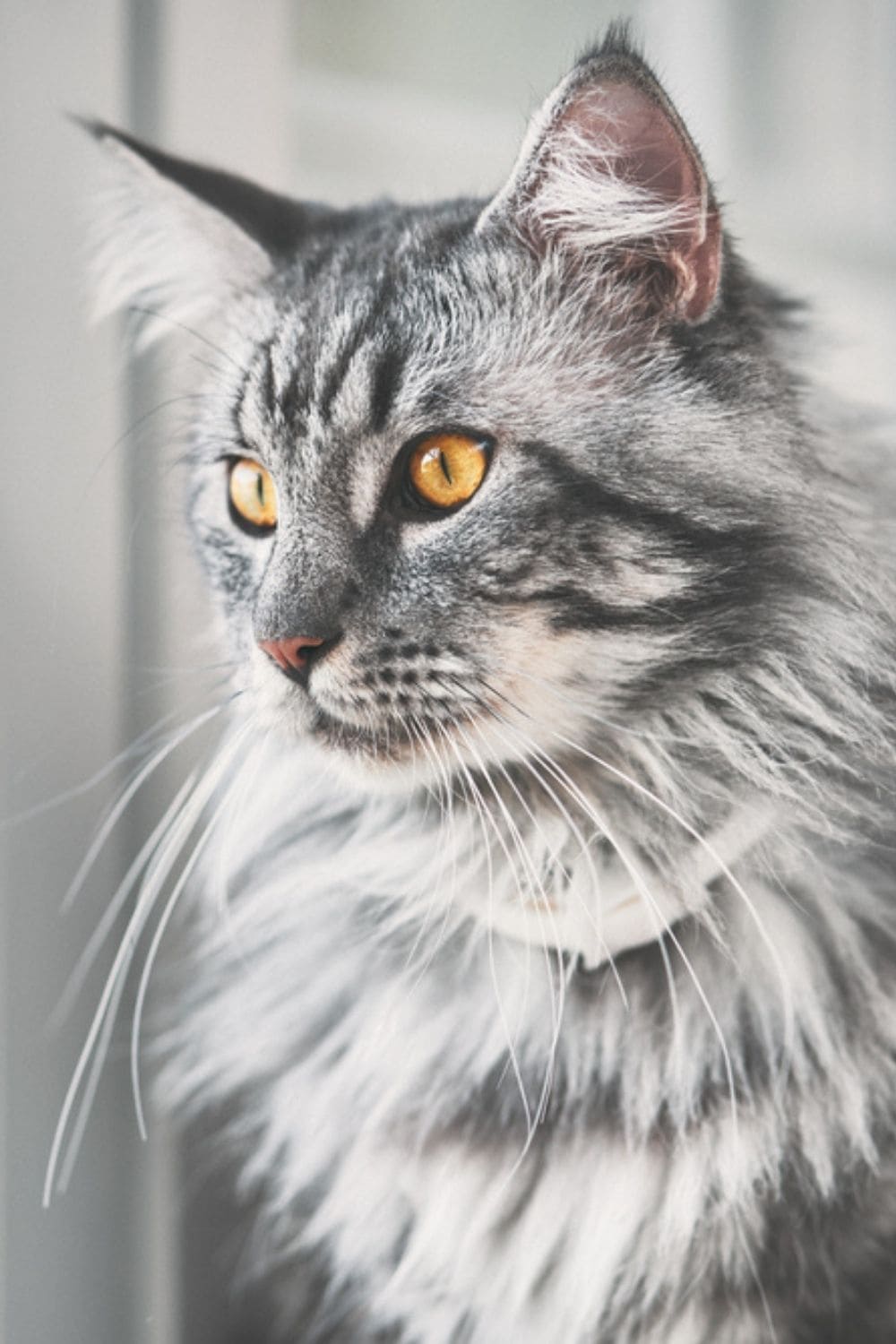 Freyja's Maine Coons cattery is located on the Eastern Shore in Maryland. These breeders specialize in black smoke Maine Coons imported from Europe.
According to the CFA breed standard, black smoke Maine Coons have a white undercoat that is deeply tipped with black. This cat has a light silver frill and ear tufts, while its paw pads and nose leather are black.
Breeders from the Freyja's Maine Coons cattery test their Maine Coons for 50 genetic health predispositions. All their kittens are TICA registered.
The price for their kittens is $2,000, with a non-refundable $500 deposit included.
Prospective owners interested in securing a kitten should pay the deposit after signing the sale agreement. Upon payment of the deposit, you will receive a confirmation of your kitten reservation.
Kittens from this cattery are ready for pickup at 12 weeks of age.
Breeder Info
Location: Centreville, MD
Website: Freyja's Maine Coons
Facebook: Freyja's Maine Coons
E-mail: colleen@freyjasmainecoons.com
3. Royal Maine Coon Cats, Westminster
Ekaterina Sablin is the owner and breeder behind the Royal Maine Coon cats cattery in Westminster.
She has been in the breeding business since 2018. Together with Maine Coons, Ekaterina also raises Bengal and Scottish Fold kittens.
Her cattery is WCF and TICA-registered. This breeder strives to raise healthy and fully socialized Maine Coons following the official breed standard.
Ekaterina doesn't cage her cats and they all live with her in her home. This means that her cats have a constant interaction with both people and other animals.
Ekaterina's Maine Coons are tested-free for the Immunodeficiency Virus FIV and Leukemia Virus FELV.
Her Maine Coons are ready to leave the cattery after reaching 12 weeks of age. By then, they will be spayed/neutered, fully vaccinated, and accustomed to the litter box.
Reservation for a kitten from Royal Maine Coon Cats requires a non-refundable $500 deposit. The full price ranges from $2,700 up to $4,500.
Breeder Info
Location: Westminster, MD
Website: Royal Maine Coon Cats
Facebook: Royal Maine Coon Cats
Instagram: Royal Maine Coon Cats
Phone number: +1 443-540-7982
E-mail: royalbengalcattery@yahoo.com
4. Sheracoons Maine Coon, Baltimore
Lisa Baron owns the Sheracoons Maine Coon cattery in Baltimore. This is a small, TICA-registered cattery.
Lisa breeds her kittens for health and temperament. Her Maine Coons are socialized with other cats, dogs, and children from their birth. This means that all of them are adjusted and will easily adapt to any kind of environment.
Lisa's cats have one litter per year. She finds this essential to maintain a healthy breeding program, emphasizing quality over quantity.
Her kittens are ready to leave the cattery between the ages of 12 to 14 weeks. Lisa's Maine Coons come with a one-year health guarantee. They are all tested negative for FIV, FELV, and Hypertrophic cardiomyopathy (HCM).
Sheracoons Maine Coon is a closed private cattery, meaning that it doesn't allow visitors. Lisa believes that this is the best way to protect newborn vulnerable kittens from illness.
Her Maine Coons are dewormed at 4 and 8 weeks of age, and right before their future owners pick them up.
The price for Lisa's kittens goes from $1,800 to $2,700. To reserve a kitten, it's necessary to pay a $450 deposit.
Breeder Info
Location: Baltimore
Website: Sheracoons Maine Coon
Facebook: Sheracoons Maine Coon
Instagram: Sheracoons Maine Coon
Phone number: 1-443-812-2464
E-mail: Sheracoons@gmail.com
5. Whimsicats Cattery, Silver Spring
Whimsicats cattery first started raising Bengals kittens in 2020. A year later, they fell in love with the Maine Coon breed and started to breed these cats, too.
These breeders are dedicated to following the responsible breeding program, raising their kittens in a loving and caring environment.
Their main goal is to make the transition from their cattery to a kitten's forever home as easy as possible. Their Bengal and Maine Coon kittens are raised and socialized with other animals and children.
Whimsicats breeders take care all their kittens are dewormed and vaccinated before leaving their cattery. They provide a one-year genetic guarantee against all genetic diseases.
Their kittens are ready to go with their new owners at 12 weeks of age.
​
Whimsicats's Maine Coons are from European lines, imported from Russia. They are registered with WCF and TICA or CFA.
The price for a Maine Coon kitten from this cattery goes from $1,600 to $2,500, with a $500 deposit included.
Breeder Info
Location: Silver Spring, Maryland 20904
Website: Whimsicats Cattery
E-mail: whimsicats.cattery@gmail.com
Conclusion
Considering the popularity of the Maine Coon breed, it shouldn't be too challenging to find somebody selling these kittens near your home.
Still, this doesn't mean all the people announcing they're selling are trustworthy. Unfortunately, some of them only do this to earn some quick money.
Breeding and raising kittens isn't an easy task, and definitely isn't for anyone. It requires a person to have a lot of knowledge, patience, and, above all, a lot of love for cats.
These five Maine Coon breeders in Maryland we included in our list are the type of breeders you should be looking for. They put the health and well-being of their kittens first.
Their most important goal is to find a home for all of their kittens where they will receive the same amount of attention as in their cattery.
I hope you've found the ideal breeder on our list and that soon you'll be sharing your home with an amazing Maine Coon kitten!