BetterWithCats.net may earn a small commission when you use one of the links on this page to purchase.
Our cats love cat trees and most cat owners already know how important they are for exercise, mental stimulation, and of course afternoon naps in the sun.
But even though our cats love cat trees, these carpeted towers aren't always the most stylish addition to our home. As a result, many folks are constantly on the search for great-looking, unique, and interesting cat trees that are still fun for our feline friends.
One of my favorite options for mixing things up are cat trees that are designed to look like real trees or at least take their inspiration from nature. However, these aren't easy to find and there's a surprisingly small number of cat trees on the market that are truly modeled after real trees.
I've spent hours (and hours) tracking them down to give you my honest, unbiased take on them. While I wish I could present you with a list of only realistic cat trees, there just aren't enough out there so I've added a few cat trees, scratchers and shelves that are inspired by nature even if they aren't a perfect tree.
Either way, these cat trees make a great option for keeping your cat happy without having to sacrifice style.
I'll be going over a few of the basics you'll want to look for in a cat tree along with the criteria that I'll be using for each cat tree but if you want to skip ahead and see my favorites you can see all the cat trees that made the list here:
Why Go For A Cat Tree That Looks Like A Real Tree?
There are two main reasons to go for a cat tree that looks like a real tree.
The first is style! Most folks will agree that adding house plants to your home can improve the overall aesthetic and feel of your living space. Many people will also agree that the cat tree industry could use a major style overhaul. By going with a realistic style cat tree, you get the best of both worlds and some trees, like our best overall pick, could pass for a traditional house plant!
The second reason (and probably more important) is for your cat! Cats enjoy cat trees and while there aren't any feline complaints about the classic carpeted cat trees, there's something to be said about allowing cats to climb, play and exercise in their natural environment. Some of the cat trees on this list incorporate real wood…you know, the original scratching post! Others recreate the experience of being hidden behind a wall of leaves which taps into our cat's natural instincts as ambush predators.
Are cats going to think that your realistic cat tree is actually a real tree?
Probably not, but it also doesn't matter. Your cat knows that her favorite mouse toy isn't a real mouse but that doesn't stop her from having an absolute blast! Cat trees that look like trees work in the same way and even though they won't fool your cat they still tap into their natural instincts and give your cat a great outlet for play.
What To Look For In A Realistic Cat Tree?
When shopping for any cat tree, including one that's designed to look like real trees, there are a few critical things to look for. Let's take a quick look at each factor.
Height
Height is one of the first things people consider when they look at a cat tree and in most cases it's the main metric that people use to categorize them. Seeking out heights is a natural instinct for cats and one that is alive and well even the modern-day house cats. Our cat's wild ancestors and feral cousins are not only predators but also prey. By taking to the trees, our cats can not only survey their territory but also stay safe from predators.
But how tall of a cat tree do you need?
For the majority of homes, I recommend at least one cat tree that's 36 inches or taller. Most kitchen counters are 36 inches tall and so are the tops of most sofas. By getting a cat tree that's at least 36 inches (or taller) you give your cat the prime vertical real estate. It also increases the chances your cat will choose to hang out on their cat tree instead of surfing the counter!
Not every tree or scratcher on this list is over 36 inches but they still make great additions to the overall feline-friendliness of your home.
Scratching Areas
In addition to heights, cat trees provide an appropriate outlet for our cats to scratch. Scratching is extremely important for cats, so much so that even declawed cats still need to scratch! That's because scratching does a lot more than trim claws- it's also a way for our cats to mark their turf! All the cat trees on this list will have areas to scratch but some will be larger than others so consider what scratching areas your cat already has and how your realistic cat tree will fit in.
Navigation
How cats will navigate to the top of a cat tree is often overlooked. It's just assumed that cats will happily jump straight up to the closest platform- and most will. But if you've got an older feline you'll want to take the time to consider how your kitty will navigate to the top. I covered this extensively when we reviewed the best cat tree options for older cats. We looked at ramps and closely connect platforms as great options for senior cats that might be so spry anymore.
Also important is how multiple cats will navigate the tree at once. It's usually best to find cat trees with multiple routes to the top so there's plenty of room for cats to climb without any kitty conflicts. Whatever your situation, consider how cats can get from point A to point B without disturbing a feline roommate!
Material
While a cat tree made of real wood is going to look the most realistic, it's also going to be a lot harder on the budget. In most cases, you'll either want to look for other features that give the cat tree a realistic feeling (like faux leaves) or stick with realistic-looking but fake wood.
Our Favorite Cat Trees That Look Like Real Trees
As I've already mentioned, the market for cat trees that look like real trees is pretty small so while we've got several options that really do look like actual trees I've also added a few options to the list that are inspired by trees, plants, and nature. Some brands take a more fantastic approach while others go for realism.
With the background information out of the way, let's get into the reviews starting with the best overall and most realistic!
Best Overall and Most Realistic: On2 Pets 43 Inch Cat Tree with Leaves
The clear winner in the best overall and most realistic category is this beautiful cat tree from On2 Pets. This is one of my favorite trees and it's made the list across several of our cat tree reviews because of its unique design and sturdy construction.
If you're looking for realism, this is one of the most realistic trees you can find without breaking the bank and having to go the route of a boutique craftsman. At 43 inches (109 cm), it's tall enough to be interesting to most cats without completely taking over the room. There are three platforms that get increasingly smaller to give it a proper tree shape and each platform has a small amount of carpet that can be used for scratching.
The sturdy construction supports up to 32 pounds which is plenty for most cats and a big reason why this cat tree also shows up on our list of the best options for Maine Coon cats.
But of course, what really makes this cat tree interesting are the leaves! Look closely at the product picture above because there's a very cute black and white kitty hiding in the leaves! That's exactly what cats find so appealing about this tree! While the leaves are clearly fake, they're still realistic enough that this tree can really blend into a home. Cats also don't care if they're real or not- they just know they're fun to hide in and bat around!
If you want to take your style to the next level, you can also get this tree in several color variations including deep green, autumn, and summer which is a mix of both colors and my personal favorite.
You can read more reviews and check the latest price on Amazon by clicking here.
What I Love About It: The leaves! They make this cat tree look like a real tree and cats love to play in them! I also love the different color variations that are available.
What I Wish It Had: You can't take away anything as far as style but this simple cat tree is missing some of the traditional features you'd see in a more standard design. The biggest issue is the lack so scratching areas and you'll want to make sure your cat has plenty of other appropriate scratching areas.
Best for Budgets and Small Spaces: On2Pets Cat Furniture Canopy Shelves
We're only two reviews in and we've already got two products from On2Pets, but that's for good reason! These guys are really on the right track when it comes to realistic cat trees.
But I know what you're saying…this isn't a cat tree at all!
You're right, it's a shelf. But they can still do (almost) everything a cat tree can while taking up only a fraction of the space! The biggest feature that's missing is a great scratching area. While cats can scratch the small carpeted area, many felines prefer vertical scratching areas and these shelves just can't do that. But they still give cats a place to hide, relax and exercise!
Like our best overall pick, these shelves feature realistic leaves that cats love to bat at, bite and hide in. The shelves are designed to hold up to 32 pounds which makes them a good option for bigger cats or just regular-sized kitties that are committed to parkour.
The overall platform size is 22 inches which, combined with the carpet for grip, is plenty of landing space for most cats. You can check out a feline acrobatic enjoying these shelves and get a better idea of their size compared to a normal cat in this video from an Amazon reviewer. There's of course plenty of space for naps too!
The size of the platforms, and the fact that you can put them just about anywhere, are a major selling point for these shelves. While a cat tree takes up both floor space and vertical space, these shelves make a great option for small living areas.
The leaves ago up about 15 inches which is plenty of space for cats to hide in. They've also got a good bounce to them and most cats won't be able to resist slapping them around a bit! You can see the green leaves featured above but my favorite is the summer-style which has a mix of green and brown leaves.
Finally, there are several shapes to choose from and while the "box" style is interesting, it's missing the leaves and so most folks will probably go with the round or rectangle style depending on what fits best with the rest of your home. Remember, these come in a set of two! Some folks have mistakenly bought more than they needed thinking the price was per shelf.
You can check out the latest price on Amazon and see more reviews by clicking here.
What I Love About It: There's a lot to love about these but my favorite feature is the realistic leaves! Cats love to creep, crouch, and hide behind these leaves and it really helps that they have a good bounce to them too.
What I Wish It Had: It's hard to add much to these, but I'd love to see an additional focus on making these scratch-friendly. As it stands, you'll want to have some other scratching area for your cat in addition to these shelves.
Best with Real Wood: Mau Lifestyle Leone 50-in Modern Wooden Cat Tree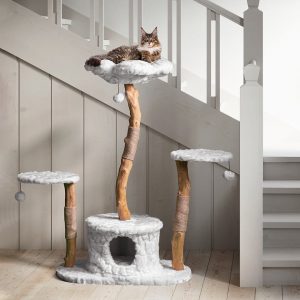 While this cat tree doesn't have leaves to really make it look like a real tree, it does have something that many others don't: real wood!
With a combination of real wood and the classic cat tree carpet, this activity tree has the best of both worlds. The real wood gives it a unique and almost elegant design but it's functional too as cats can happily scratch away at the actual wood or the areas of sisal rope.
At 50 inches (just over 4 feet), it's also tall enough to keep cats interested but not so tall that it takes over the entire room. It's also got a very spacious and cozy cubby at the bottom which is something that's sometimes missing in cat trees that are modeled after real trees.
With several platforms, this cat tree can work for multiple cats but because the tallest platform doesn't have anything comparable it's not the best. That's because cats may have some minor conflicts as they compete for the top platform.
Overall, if you're looking for a sturdy tree that features real wood, this could be a great option. You can learn more about this tree and see the latest price on Chewy by clicking here.
What I Love About It: The real wood gives this tree a very unique look and makes a great space for scratching.
What I Wish It Had: I'd love to see more platforms on this tree, ideally towards the top. That way several cats can enjoy the height without having to compete for the platform.
Cutest Design: Catry Sunflower Cat Tree
Amazon product
While it's not a perfectly designed tree, this super-cute sunflower design still takes plenty of inspiration from nature. They've also done a great job making the sisal center look like an actual sunflower! Even though no one is going to mistake it for a real sunflower, I still love the more realistic direction instead of going for something completely cartoony.
Not only do I love the design but seeing your little feline friend sitting on a flower is pretty cute too.
But this small cat tree isn't all cutesy style- it's also got a functional and unique design that allows you to switch between a focus on scratching or lounging. You can actually unscrew the flower portion and add an extra joint to angle the flower to the side. This puts the sisal scratching pad at the perfect angle for scratching as the majority of cats prefer vertical options.
Or you can remove the extra joint and allow the sunflower to point straight up turning it into a comfortable cat bed. This might not be a selling point to everyone, but I love the idea of being able to adjust the cat tree based on how your cat actually uses it.
It's a small cat tree, which is both a pro and con. At only 23.2 inches, it can fit just about anywhere but that also makes it too small to be the only piece of cat furniture as cats need several height options. Still, it's budget-friendly enough that it can be a great addition to your collection
You can read more reviews and check the latest price on Amazon by clicking here.
What I Love About It: The ability to go from scratching post to cat bed makes this one of the more unique cat trees on the market. I love that you can adjust the style based on what your cat seems to prefer!
What I Wish It Had: I'd love to see the design built out a bit more. It's a simple design, which keeps it budget-friendly, but I'd love to see some extra padding on the top.
Best for Height Loving Felines: Go Pet Club 74″ Cat Tree
Amazon product
At 74 inches this cat tree is just over 6 feet tall which makes it a great option for high-flying felines.
You'll also find several other classic cat tree features like a cozy cubby, tons of sisal scratching areas, several platforms, and even a hanging hammock. The base is also wide enough to make the overall tree stable without taking up too much floor space.
Go Pet Club also has a reputation as a budget-friendly brand and this cat tree is no different. You can end up spending a fortune on some of the taller cat trees out there but this tree-inspired tower won't break the bank.
The biggest downside is the lack of realism to the tree-themed tower. While there is a handful of faux leaves scatted throughout, it's doesn't give cats the ability to hide and ambush the same way that our best overall pick does.
Still, it's got a well-deserved spot on this list for everything else it brings to the table including a great value when you consider just how large this tree actually is. You could also consider picking up some faux leaves on your own to add to this cat tree. Not only can this be a fun project for you, but your cat will almost certainly want to help! I recommend these leaves on Amazon if you're feeling crafty and you can actually see how another cat parent worked them into their cat tree by clicking here.
What I Love About It: Of course the height is great, and this cat tree is taller than most adults, but my cat absolutely loves hammocks so that's got to be my favorite feature on this tree. If you're interested in seeing more cat trees with hammocks you can also check out this article.
What I Wish It Had: I'd love to see more energy put into making this look like a real tree! It's got some faux leaves and the right colors but it's not over the top.
Best for Scratching: PetnPurr Cactus Cat Scratcher
Amazon product
We've seen a few cat trees on this list that are missing a significant scratching component so I wanted to make sure to include a nature-inspired scratcher to go with your cat tree! Even though a cactus isn't technically a tree, because it lacks a trunk, I don't think your cat will mind!
This compact cat scratcher is 25.6 inches tall, or just over 2 feet, with a narrow 15-inch base. It's not going to take up much room and it's also going to be easy on the budget. You can get a good idea of the size compared to a typical cat in this picture from an Amazon reviewer.
Overall, this cute cactus is best as an addition to your existing cat tree or perhaps a cat shelf or two.
What I Love About It: They've fully committed to making this look like a real cactus! The material at the top is a really nice touch that adds some interesting texture. They've even made sure that the dangling toy is a perfect cactus green.
What I Wish It Had: I'd love to see the sisal rope go a little higher. While cats can scratch anywhere on this, sisal rope is usually preferred and as it stands it doesn't run all the way up the tree.
Premium Pick: Handmade Real Wood Eco Cat Tree
Amazon product
If you're looking for the best, regardless of the price, this real handmade cat tree could be a great option. But it's the premium pick for a reason!
Only found on Etsy, this cat tree is handmade by the seller and features real wood. Not that you needed me to point that out! You can actually see the rings of the tree on each platform!
Speaking of the platforms, I love the effort that went into making them highly functional and reasonably spaced. I've found that handmade designs often have to adapt the wood so much that they end up short on platforms!
You can check out the owner's full collection of cat trees, including this one by clicking here. If you're looking for a similar Etsy store that has more options with leaves, check out the folks at PetTreeHouses by clicking here.
What I Love About It: The variety of wood used is amazing and gives this tree a beautiful look. I love the contrast between the light and dark wood.
What I Wish It Had: I'd love to see a cozy place to rest. Adding carpet to this tree would completely detract from the realistic style so instead, I'd love to see a cubby with some comfortable bedding added in. That way, cats would have a cozy place to rest without taking away from the overall aesthetic.
What About Custom Designs?
If you really want a cat tree that actually looks like a real tree (or is even made from a real tree) then you may have already considered a custom design. While I did feature one custom design on this list, there's a reason I didn't add more.
Simply put, they're very expensive!
You should expect to pay at least $500 for a custom cat tree that incorporates real wood but in most cases, you'll need to spend around $1,000 for the highest quality. For most folks, that just doesn't make sense and some of the other options on this list are better options.
The other issue is that many custom trees aren't sold on Amazon, Etsy, Chewy, or other major vendors. Instead, they're sold on small websites made by the vendor.
That means you'll need to fork over a big chunk of cash to the individual vendor through their own website without the backing of a major company. You're also going to typically pay more shipping in these cases and it certainly isn't cheap to ship a giant cat tree!
If you're looking for something truly unique and custom, Etsy is going to be your best bet outside of finding a local craftsman. Keep in mind that Etsy also allows you to request a custom job which could be an interesting option if you've got the budget for it.
Closing Thoughts
The market for cat trees is massive but when it comes to finding a cat tree that looks like a real tree the choices can be a bit limited. Our pick for the best overall gives a great balance of everything but if you don't mind a little more of a fantastic interpretation of a tree there are plenty of options that feature all the usual cat tree bells and whistles.
Which cat tree is your favorite? Did you go for a real wood option or stick with something more traditional?
Read Next: What Kind Of Glue Is Safe For Cat Trees?