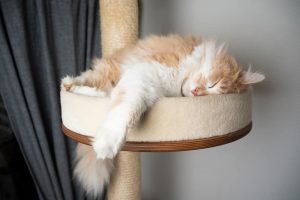 Maine Coons are some of the most popular cats in the US and the entire world has a bit of a fascination with these giant felines!
Even though they have a bit of a reputation for being a little lazy, these big cats still want to leap, climb and crawl on a cat tree and with an average weight of up to 18 pounds for male Maine Coons, you're going to need a heavy-duty cat tree to support the weight of a Maine coon kitty!
But there's more to consider than just weight capacity. Of course, weight is an important factor but you also want to make sure that the cat tree's platforms are large enough to support the long body of a Maine Coon cat. There's also the issue of the overall construction. With all that extra weight comes extra power and Maine Coon cats will undeniably put a cat tree through more and wear tear than your average 9-pound cat.
We're going to go over each of these in detail within our buyer's guide section along with mini-reviews of our 7 favorite cat trees. But if you want to skip ahead and see which cat trees made the Maine Coon cut you can see my favorites here:
Will these cat trees only work for Maine Coons? Absolutely not! If you've got a mixed cat household or big felines that aren't Maine Coons, these cat trees still make a good option.
But before we get into the individual reviews, let's take a closer look at why Maine Coons need different cat trees and what you should look for when making a purchase.
What Makes Maine Coons Different?
The most obvious difference between a Maine Coon and other cats is their size. In fact, it's not uncommon to see Maine Coon cats that are twice the size of an average cat! Of course, the prevalence of feline obesity can greatly change these numbers, too. Recent studies show that almost 60% of cats are considered overweight or obese and while I'm in no way endorsing overweight cat we have to recognize that the 18-pound average weight for Maine Coons is likely much higher when you consider how many cats are carrying extra weight.
Maine Coons are also generally stronger than your average housecat. When your big Maine Coon cat is using the scratching post on your cat tree they're likely going to be putting a lot more force into it than the average feline!
Finally, Maine Coons are long! In fact, a very handsome cat named Stewie actually holds the record for the longest cat according to the Guinness Book of World Records. Stewie was 4 feet long and while that's certainly exceptional, most Maine Coons are long cats. That means they need platforms that can support them!
What To Look For In A Cat Tree For Maine Coons?
Okay, with the Maine Coon basics out of the way, let's take a look at how this applies to cat trees and what we need to look for.
Weight Capacity
First things first, we need a cat tree that can support big Maine Coon cats! Not only when they sit but also the force that's generated when they actually land on the platforms. The big problem here is that most cat trees aren't testing or reporting the weight capacity of their cat trees. Which shouldn't surprise us too much since the average non-Maine Coon cat parent doesn't have to worry about these kinds of big cat problems!
Still, we can make some good guesses as to the weight capacity based on the material used. We'll also be looking closely at the reviews of other cat owners specifically looking for reviews by Maine Coon or big cat parents.
Platform Size and Placement
We also want to make sure that the platforms are large enough to support Maine Coon cats. Of course, we want Maine Coons to be able to sleep comfortably on all or several of the platforms but we also want to make sure that the platforms are large enough for big cats to land on. The last thing we want is for a big-bodied Maine Coon to miss a landing and fall!
Finally, we'll be looking closely at the specific placement of the platforms. Platforms that are too close together or too bunched up may not work for big Maine Coons who will need some extra space to maneuver.
Cubby and Bed Size
Just like we expect to see bigger platforms, we also need to see bigger cubbies for our larger felines. The main issue here is the size inside the cubby rather than the actual entrance. All cats, including Maine Coons, have an amazing ability to squeeze into small places thanks to a unique bone structure. You may be surprised at what your cat can actually squeeze into so the real issue is whether or not they can fit once they're inside and less so the actual size of the entrance.
Overall Size
While I do have a few cat trees on this list that will work for smaller spaces, in general, we'll want to go a little bigger when it comes to cat trees for our Maine Coons. This is especially important if you've got multiple cats as you don't want to have any territory issues that could result in a scuffle. Bigger cats simply need a bigger cat tree to really enjoy it. If you've ever seen a really tall person in a small compact car then you know the effect we're trying to avoid!
Construction Quality
Bigger, stronger Maine Coon cats are going to put more wear and tear on their cat trees. While Maine Coons aren't known for their acrobatics, they're still cats and will occasionally attempt the traditional full speed run into cat tree climb! Carpet or other material that's not securely attached to the frame of the cat tree can quickly be ripped off or removed by big cats.
We also want to see thick posts in key areas of the cat tree which suggest stronger and sturdier construction but this is unfortunately pretty uncommon in the world of cat trees.
Where Are You Going To Place The Cat Tree?
Finally, you've got to consider where you're going to place the tree. Photos can be deceiving and you might be surprised at just how big some of these cat trees are! While that's great for your Maine Coon, not everyone is ready to have the defining feature of their living room be a cat tree!
The other thing to consider is whether or not you're going to place the cat tree in a corner or not. I always like corner placements for cat trees since it can increase stability and decrease wobbliness but not all cat trees are designed for corner placement. Many have a perfect right angle that will easily slide into a corner but others are a lot wider. While this might seem obvious, it's easy to overlook, especially when you start imagining your new cat's playground!
Best Cat Trees For Maine Coons
With all the background information out of the way, it's time to get into the reviews! Each of these cat trees was selected with our criteria in mind and will not only work for Maine Coon cats but for any large cat as well!
Best Overall: Hey-Brother 43.3 Inch Multi-Level Cat Tree Condo
Sale
This is one of the few cat trees you'll find that's purpose-built for big kitties which means it's the clear winner for best overall. At 43.3 inches (just over 3.5 feet), one of the first things you'll notice is that the top platform and both of the cubbies are extra large which should leave plenty of room for big Maine Coon cats. Just looking at the picture above, you can tell that that the normal-sized cat on the top perch has plenty of room. Each platform has plenty of support from thick sisal wrapped columns and the rest of the cat tree is wrapped in plush material instead of the traditional carpet.
The folks at Hey-Brother have also paid extra attention to stability and durability- which is critical for Maine Coons. The cat tree includes anti-toppling fittings which are used to secure the tower against a wall. This cat tree is best placed in a corner where you'll get even more support in addition to the anti-toppling fittings.
The only thing that isn't completely super-sized on this tree is the floating bed but with a diameter of 13.7 inches, there's a good chance most Maine Coons will still happily snuggle into it. But that's not just a guess. There are dozens of big cat and Maine Coon pet parents who love the extra-large size of this tree. You can check out one of my favorite Amazon reviews from a pet store employee and big cat parent here.
Overall, this cat tree has been tested by many big cats with weights in the high teens or more! It's also available at a great price that won't break the bank. You can check out more reviews from other Maine Coon parents and see the latest price on Amazon by clicking here.
What I Love About It: The supersized top platform and cubbies are perfect for big cats! This really is one of the few cat trees that's clearly built with bigger felines in mind!
What I Wish It Had: An easier route to the top platform. Will most cats will have an easy enough time making their way to the top, some cats (especially older ones) may find it a bit difficult to make their way to the top.
Runner Up: FEANDREA 33.1 Inch Cat Tree for Large Cats
Sale
Our runner-up is a little smaller coming in at 33.1 inches (a little over 2.5 feet) but it's also a little more budget-friendly. It's got many of the same features that made our best overall pick great for big cats including an extra-large top platform measuring 16.1″ by 22″ which should be plenty of room for even the biggest of Maine Coons. There are also two cubbies that should accommodate big cats With a short overall height, this cat tree will be a bit more stable but is still best placed in the corner if possible.
I love the plush material used, instead of the usual carpet that you see in many cat trees. There are also two sisal wraps on the main pillars and while that will be enough for most cats but some active scratchers may need a supplemental scratching post or additional cat tree.
This cat tree also has the backing of cat parents with more than 4,500 five star reviews. One of the most relevant Amazon reviews mentions how much their 22 pound Maine Coon loves this tree and you can read it here.
This cat tree is also budget-friendly, especially when you consider the overall quality of the tree. You can read more reviews and see the latest price on Amazon by clicking here.
What I Love About It: The supersized top platform is huge! It's also extremely plush making it extra comfortable for napping in the sun!
What I Wish It Had: The scratching posts are nice but nothing beyond the norm. I'd love to see bigger pillars to accommodate big Maine Coon cats.
Best on a Budget: YAHEETECH 36 Inch Cat Tree
It's not always easy to find a budget-friendly cat tree for any feline…let alone big ones! Most cat trees just aren't made for Maine Coons! So while this cat tree wouldn't be considered "dirt cheap" it's still a great tree that's Maine Coon friendly without breaking the bank. At 36 inches, it falls in-between our previous two picks and while it doesn't have some of supersized features of the best overall options it's still plenty for most Maine Coons.
For starters, we've got two jumbo-sized cat caves measuring 14″ by 12″ with large entryways measuring 9″ tall and 7″ inches wide. The top pech comes with plenty of plush padding and while not massive it still measures 18.5″ by 15.6″ which should be plenty even for a Maine Coon.
Besides the budget-friendly pricing, the other thing that makes this cat tree stand out is the ramp that leads into the second level cat cubby. Ramps are something we covered extensively in our review of the best cat trees for older cats and the ramp on this tree makes it a great option for senior Maine Coons that might not be so eager to jump. I think one Amazon reviewer summed it up the best when they explained that the tree is a great balance of price and size while taking about half an hour to put together.
Overall, the Yaheetech cat tree is a great balance of quality and price with more than 450 five-star reviews backing it up. You can read more reviews and see the latest price on Amazon by clicking here.
What I Love About It: Budget-friendly pricing but every feature is still big enough for most Maine Coons to enjoy. The ramp also makes it a great option for senior cats that may not want to leap up to the top.
What I Wish It Had: As we've seen in other cat trees (even ones built for larger cats), I'd love to see a bigger scratching area for cats. As it stands, the sisal towers are nice but maybe too small for big Maine Coon cats.
Best for Mulitple Cats: Amolife Heavy Duty 68 Inch Multi-Level Cat Tree
Sale
If you've got multiple Maine Coons you're going to need a bigger tree! Cats are naturally territorial creatures and it's important to make sure each cat has at least a little bit of space they can call their own in order to prevent conflicts and confrontations. Even if your cats aren't particularly territorial with each other, you don't want there to be only one good window perch in the household! Measuring at 68 inches ( just over 5 and a half feet) this heavy-duty cat tower from Amolife is a great option for multi Maine Coon households.
There are multiple cubbies and the largest measures a whopping 24″ by 14.6″ which should be plenty of room. However, I will note that the entryway to this particular cubby is a bit small but remember that all cats, even big Maine Coons, have an amazing ability to squeeze into tight spaces.  There are also hundreds of reviews from big cat parents to back up this cat tree.
How big are we talking? Well, one Amazon reviewer noted that they have 3 cats, one of which is 25 pounds, and all three of them regularly hang out on the cat tree!  Twenty-five pounds is one big kitty! The manufacturer, Amolife, also notes that the cat tree is rated up to 44 pounds. The heaviest housecat on records weighed in at 39.6 pounds so unless you've got a record-setting feline the 44-pound weight limit should be plenty. This weight limit is important to consider too since sometimes the floating beds can be too flimsy for bigger cats. The top platforms each measure 16″ by 16″ which again should be plenty of room for multiple Maine Coon cats.
Finally, there's a ramp that leads into the supersized cubby that can be a great option for keeping the peace and a bonus for senior kitties that aren't always ready to leap up to the top platform.
Overall, this makes a great option for multiple cat households not only because it's tall but because it's also wide which is important when it comes to giving each cat their own space. You can read even more reviews and see the latest price on Amazon by clicking here.
What I Love About It: The ramp leading into the super-sized cubby. Cats are great climbers but as they get older it's great for them to have the option to simply crawl into a nice cat cave. I also like that the ramp increases the scratchable surface area of this cat tree.
What I Wish It Had: Some of the platforms on the first tier are a little small (about 12″ by 12″) which makes them better as a step than a dedicated lounging area. But there's still plenty of room on the top platforms even if the bottom layer isn't as large.
Multiple Cat Runner Up: FEANDREA 67 inches Multi-Level Cat Tree
Sale
This 67-inch cat tower from FEANDREA is a great multi-cat alternative. It's a little less wide than our other pick but still wide enough that there's enough room for more than one cat- even if they are Maine Coons. It's also a bit more budget-friendly than other cat trees in the same size category.
The top platforms are also large at about 13.7 by 13.7 inches and while that's plenty of room for most big cats it's smaller than the super-sized 16″ by 16″ platforms in the best overall. It's got multiple large cat cubbies and a nice ramp leading up to the bottom cat cave.
And if you're wondering if it can handle multiple Maine Coon sized cats check out this Amazon review from a happy cat parent to 10 big rescue cats!
Overall, this makes a great alternative to the best overall pick for folks that want a big multi-cat tree without the extra width of the Amolife option. You can read more reviews and check the latest price on Amazon by clicking here.
What I Love About It: I really like the shape of the first cubby. It's round unlike the squares we've seen on a few other cat trees and I know some cats will love to make a perfect little fur circle inside!
What I Wish It Had: I'd love to see the second cubby be a little bigger. As it stands, it's still large enough for Maine Coons but it would be great to supersize it!
Best For Height-Loving Maine Coons: Frisco 76 Inch XXL Cat Tree
Buy On Chewy
This giant cat tree from Frisco comes in at 76 inches or 6 feet and 4 inches tall. At this height, your Maine Coon will have a chance to get the best vantage point with the tallest spot in the room.
Which is exactly what some cats want. As cat expert Jackson Galaxy explains, different cats have different styles when it comes to their preferred territory. While some cats are content to hide behind a bush or hang out in the open, others are what he calls tree dwellers. These are cats that "can be found anywhere off of the ground. These cats get their confidence from being up high and seeing what's going on, preferring to be on a chair or on top of the couch."
If you think your Maine Coon cat is a tree dweller, I can't think of a better spot for them to hang out than over 6 feet above the ground!
Not only is this cat tree tall, but it's got platforms and cubbies that are large enough for Maine Coons. The top platform, for example, measures 24″ by 13.5″ and the smallest platform on the tree is still a roomy 12″ by 15.5″. The smallest entryway for the platform (the one on the second level) is 7″ wide and 9″ tall which plenty of space for big kitties.
One of the more interesting features is the ability to rotate some of the platforms to create the ideal path for cats to climb. One reviewer on Chewy explains, "This was a gift for a couple who have a young athletic tabby and an older Maine Coon. The small platforms can be pivoted to allow the bigger cat to easily get to the next step up and finally to the top safely. The young tabby loves the height and both have choice spots for sleeping. This is an excellent cat tree."
There are also plenty of other cat parents (including Maine Coon parents) chiming in support of this cat tree for big and large cats. I'm unable to find any cat tree from the Frisco brand at Amazon at the time of writing but you can still get free shipping on this giant tree from Chewy by clicking here.
What I Love About It: While the overall height of this tree is really what stands out,  I love that you can rotate the smaller platforms to create extra steps for cats that need them or get them out of the way for cats that don't.
What I Wish It Had: There's only one sisal-wrapped scratching post so you wouldn't want to depend on this as your cat's primary scratching area.
Most Unique: On2 Pets 43 Inch Cat Tree with Leaves
Sale
This is easily one of the most unique cat trees you'll find and while it's not huge or particularly plush it does give cats an opportunity to hide in a tree! If your Maine Coon enjoys hiding under the bed or behind corners where they can jump out and pounce then they'll probably love this unique tree.
There isn't a huge amount of space per platform but with the largest measuring 24 inches in diameter, Maine Coons can still stretch out for a good nap in the brush. The top platform is the smallest and measures 18 inches long which might be a little tight for the bigger cats. However, this sturdy tree is one of the few that also includes a specific weight limit from the manufacturer and is designed to support cats up to 32 pounds.
There's also a modular component to this tree and you can easily remove the top platform to create a smaller tree. You can remove both upper platforms to even create a cat shrubbery. This is a good option for clumsy or older cats that might not use the top-level anyway.
While it has some mixed reviews compared to the other all-stars on this list, there are still happy parents of big cats on Amazon, including one from a big 15-pound feline that you can read here.
While this cat tree might not make sense for multiple cats, if you've got existing cat trees or a single Maine Coon then this can certainly work. Especially if you want a unique cat tree with style. You can read more reviews and check the latest price on Amazon by clicking here.
What I Love About It: This cat tree has a unique look that some people (and cats) will really love. It's a great way to enrich your Maine Coon's space without adding a giant wall of carpet into your home.
What I Wish It Had: While it has an abundance of style, it doesn't have all the bells and whistles that you might want to see in a traditional cat tree.
Closing Thoughts
Big Maine Coon cats are still cats! That means they still want to run, jump and play on cat trees!
But not every cat tree is ready for these giant felines! I hope you found exactly what you're looking for and are excited to find supersize cat trees for your Maine Coons! Let me know which you went with or if there's a perfect Maine Coon cat tree that I'm not aware of!