Finding an adorable Maine Coon kitten may not seem like a daunting task at first. But when you start to do more thorough research, you may be surprised and feel overwhelmed with too much information.
This breed is indeed very popular today, which means that many breeders advertise that they breed Maine Coons.
However, this does not necessarily mean that each of them is reliable and trustworthy. Unfortunately, some people care more about making quick money and selling as many cats as possible, rather than the health and well-being of their cats.
So, you should be very careful when choosing a breeder from whom you plan to buy your future kitten. Keep in mind that you should spend many years with your Maine Coon, and a prerequisite for this is the cat's good health.
I have done my research and I bring you 6 reliable Maine Coon breeders in California. With these breeders, you don't have to worry, as each of them does their best to raise healthy, socialized, and lovable Maine Coons.
1. Animali Farm, Santa Maria
Jennifer Johns started the Animali Farm in 1999 when she purchased a 70-acre property in north Santa Barbara County.
Today, Jennifer lives on the farm, together with her partner, and raises sheep, horses, goats, Australian Shepherds, and Maine Coons, together with their ranch cats.
These two have raised the Australian Shepherd dogs for over 20 years. They retired in 2022, and now are primarily focused on breeding the amazing Maine Coon breed.
When they were thinking of which breed would be perfect for them to raise, they decided on Maine Coons, because they fell in love with these big cats, their fluffy coats, and their sweet nature.
Their first Maine Coon kittens were imported from two reputable breeders on the east coast of Canada.
Animali Farm's kittens are vaccinated, dewormed, and vet-checked before they leave the cattery, which usually happens at 12-14 weeks old.
Breeder Info
Location: 3401 Tepusquet Rd, Santa Maria, CA 93454
Website: Animali Farm
E-mail: jennifer@aussieforme.com
Phone number: +1 805-938-0174
2. Canyon Creek, Canyon
Canyon Creek is a small cattery in Northern California, focused on breeding healthy and wonderful Maine Coon kittens.
These breeders raise their kittens as a part of their family.
Canyon Creek breeders carefully choose the pedigrees and bloodlines of their breeding cats. They want to make sure each of their kittens will be perfectly healthy, which is supported by a one-year health guarantee.
Maine Coon is really a special breed of cat, and, I'm sure you're all aware that this cat's price is definitely not low.
The cost of a Maine Coon kitten from the Canyon Creek cattery is $3,000.
These breeders don't have many litters per year, since they are focused on the health aspect of the breed, and on socializing each of their kittens. They breed for quality, not quantity.
Breeder Info
Location: Canyon, CA
Website: Canyon Creek
Facebook: Canyon Creek
E-mail: savey27@gmail.com
Phone number: +1 (530) 588-6381
3. Muffhyms Maine Coon Cattery, Irvine
Muffhyms Maine Coon Cattery is based in Irvine, Orange County, and has been breeding cats since 1981.
This is a small, family cattery registered with the Cat Fanciers Association. Their Maine Coons are raised inside their home, together with their children and dogs, which makes them very social and tolerant.
Their cats are fully vaccinated and come with a health guarantee.
This guarantee confirms Muffhyms Maine Coons are free of Hypertrophic Cardiomyopathy, which is, according to the Universities Federation for Animal Welfare, a very common heart disease in the Maine Coon breed.
These kittens' price goes from $2,995 to $3,195, including the $300 deposit.
Breeder Info
Location: Irvine, California
Website: Muffhyms Maine Coon Cattery
E-mail: muffhymsmainecoons@gmail.com
Phone number: 1-949-233-3433
4. NewLogica Cattery, Temecula
Alena is the founder and the responsible breeder behind the NewLogica Cattery in Temecula. She and her family have been in the breeding business since 1992.
Alena, together with her husband and her children, raises her Maine Coons inside her home with a lot of love and kindness.
She pays special attention to her cats' health, so they are all dewormed and vaccinated before they're ready to go to their forever homes.
Alena raises Maine Coon in different colors, such as silver, red, brown, and black smoke.
Some of her cats are also polydactyl, which means they are born with more than the usual number of toes on their paws.
NewLogica Cattery is registered with Cat Fanciers Association, as well as with The International Cat Association.
These breeders make sure their kittens are trained to use litter boxes, and that are socialized with children before they are ready to join their new families.
If you decide to buy a Maine Coon kitten from these breeders, they will also have some questions for you.
They want to get to know important information about their potential buyers, such as their environment, their family, working time, the reason they would like to buy the kitten, etc.
This cattery is open for visitors after their kittens receive their first set of vaccines.
Breeder Info
Location: Temecula, CA
Website: NewLogica Cattery
Facebook: NewLogica Cattery
E-mail: usamainecoons@gmail.com
Phone number: +1 323-620-9075
5. Prestigious Purr, San Diego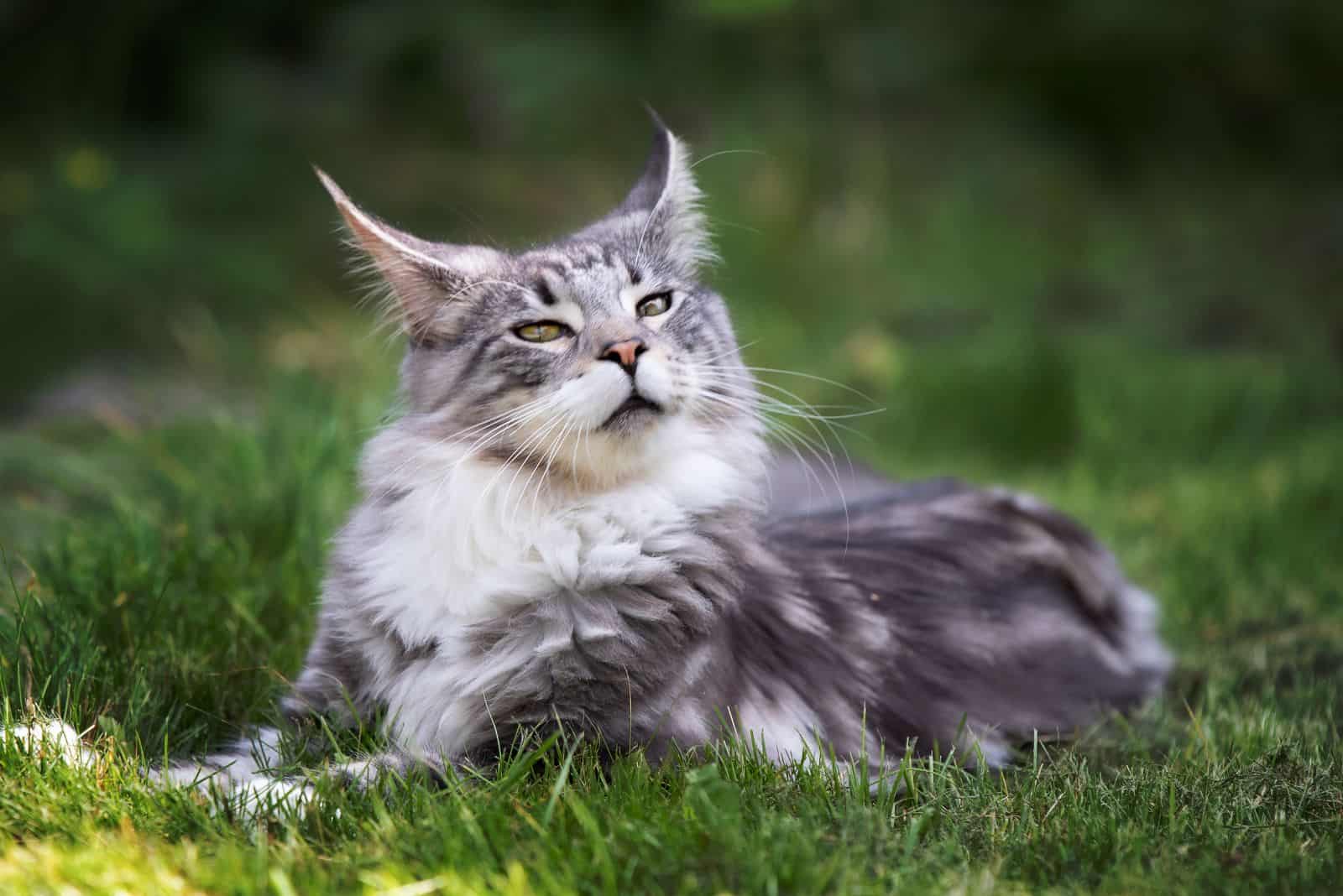 Prestigious Purr is a CFA and TICA-registered cattery based just out of San Diego. These breeders strive to raise healthy, sweet, and superior Maine Coon kittens.
They point out how this breed is perfect as a family pet.
Their pet quality kittens cost $3,000, polydactyls are $3,500, while cats with rare coat colors are priced from $4,000 up to $5,000.
All kittens go to their new homes fully vaccinated, dewormed, spayed/neutered, and with a goodie bag.
Prestigious Purr breeding cats are DNA tested for Hypertrophic Cardiomyopathy. The kittens are usually ready to leave the cattery around 11 weeks of age.
These breeders focus on the most popular Maine Coon colors, such as blue, tortie, brown classic, and silver.
Breeder Info
Location: Jamul, San Diego, CA
Website: Prestigious Purr
Facebook: Prestigious Purr
E-mail: prestigiouspurr@gmail.com
Phone number: +1 619-917-2363
6. Talamascan Maine Coons, Torrance
This is a small Maine Coon cattery focused on breeding healthy Maine Coons with amazing temperaments.
Talamascan's breeding cats come from Greece, Germany, Russia, and Spain. These breeders raise Maine Coons in different colors, but they primarily focus on silver and black smoke.
The price for a pet-quality kitten from these breeders is $3,000, while the breeder quality price is $4,000. The deposit for a pet kitten is $300, while the one for breeder quality is higher and costs $600.
Talamascan breeders' goal is to see both their kittens and future owners happy and satisfied. They keep their kittens with them until they are 3 months old.
They all come with health records, a veterinary passport, some kitten food, and a copy of their parents' DNA test results.
Breeder Info
Location: Torrance, CA
Website: Talamascan Maine Coons
Facebook: Talamascan Maine Coons
E-mail: Talamascan.mainecoons@gmail.com
Final Words
I hope that with this list of 6 reliable Maine Coon breeders in California, I have made the path to your future kitten significantly easier!
The Maine Coon is a huge cat that has such a sweet and gentle temperament that truly any family will be happy to share their living space with it.
Don't wait long – hurry up and contact the breeder whose location is closest to you! One special Maine Coon is waiting to bring lots of laughter and adventure into your life.